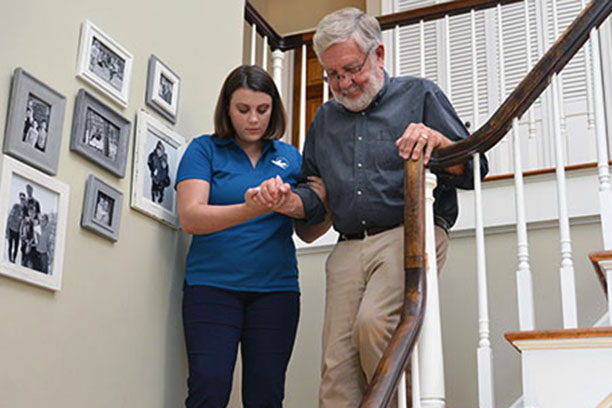 Our Home Care Aides Help Seniors with Fall Prevention in Orland Park, LaGrange, IL, and Nearby Areas
Not only are falls responsible for a large percentage of physical injuries among seniors, but they also can also have a significant impact on their emotional health and ability to socialize. In other words, it only takes one fall to significantly impact a senior's quality of life. In many cases, the fear of falling often leaves a senior unable or unwilling to leave their house. They may start turning down social invitations which can lead to many missed family events, which can cause anxiety, social isolation, loneliness, depression, and sadness.
Download Your Free Safe & Steady Fall Prevention Resource Guide today.
At Visiting Angels, Our Home Care Aides Can Help Save Your Loved One from Unnecessary Falls in Orland Park, LaGrange, Flossmoor, Hinsdale, and Nearby Cities
While reducing the risk of falls and injury continues to present a challenge to many seniors, Visiting Angels of Orland Park's home care aides can help. Our caregivers can help by teaching seniors, their families, service providers, and caregivers how to reduce the risks and prevent falls from happening.
It's important to know the facts about falls:
Each year 1/3rd of all seniors suffer a fall.
Each year 1/5th of all seniors become seriously injured, including broken hips, fractures, concussions, and more.
Seniors who fall are likely to do so again.
Every year, more than 800,000 people who fall are hospitalized.
It can take up to a full year for a senior to recover from a fall in a long-term care facility.
Many never make it home again.
Home care aides can help reduce or eliminate the risk of falls.
How Falls Occur
In the case of most falls, there is some type of risk factor to blame. These risks can include the home environment, medical issues, and physical condition. For example, the person may have poor eyesight or arthritis, may be taking a variety of medications, be dehydrated, or perhaps they don't have grab bars for added safety in the bathroom. At Visiting Angels of Orland Park, our home care aides can help identify and rectify many of the risk factors that can lead to a fall.

Contact Us to Learn More About Our Essential Care Services
If you would like to learn more about how a caregiver from Visiting Angels of Orland Park can help prevent falls in Orland Park, LaGrange, Flossmoor, Hinsdale, and the surrounding area, reach out to our staff today at 708-226-1028. We can schedule your free in-home consultation with one of our senior care advisers to discuss your loved one's needs and start developing a care plan that best suits their lifestyle. We can then start selecting potential home care aides to provide their care.
Call Visiting Angels today to learn more about how our senior care services can help prevent falls.


Serving Orland Park, LaGrange, Flossmoor, Hinsdale, and the Surrounding Area
Visiting Angels
ORLAND PARK, IL
11532 W 183rd St #NW
Orland Park, IL 60467
Phone: 708-226-1028
Fax: 708-226-1025