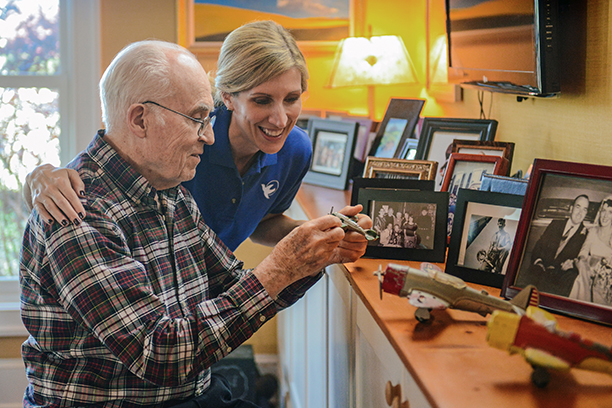 When a Loved One Needs Memory Care, Senior Home Care Services Can Grant The Ability to Let Us Help You with Visiting Angels of Orland Park
Visiting Angels Offers Home Care Services to Seniors with Cognitive Impairment in Orland Park, LaGrange, and Surrounding Areas
For families, learning that a loved one requires memory care can be difficult. Your loved one may have been identified as having Alzheimer's disease or sundowner's syndrome, or you may have noticed that they require additional support for their mental and emotional well-being. Angels of Orland Park, IL are here to help you if you're a visitor. We believe that every senior should have the option to age in place because they value their independence and comfort more than being close to friends and family. Senior home care can help your loved one feel more independent while also enhancing general well-being.
Questions You Might Have
Many thoughts cross your mind when you first learn that a loved one suffers from Alzheimer's or a similar cognitive disorder. Are your loved one's routine activities safe for them? How can you help them stay healthy for as long as possible? Will they be compelled to leave their house and neighborhood? The kind of home care needed will depend on the severity of your loved one's symptoms, as with any other ailment, and how it will affect their health.
Our Memory Care Services
At Visiting Angels of Orland Park, we provide care for those with a diagnosis so that your loved one may live comfortably at home for a longer period of time. With the aid of family, friends, the community, carers, and other resources, more than 5.1 million Americans deal with Alzheimer's on a daily basis.
You are always in charge of the schedule, cost of care, and types of help we provide since all of our in-home care services are completely customized. A dedicated caregiver will make an effort to build a trusted and respectful relationship with your loved one via one-on-one assistance and collaboration. The caregiver can assist with a number of duties, including meal preparation, mobility challenges, washing and changing of linens, light cleaning, personal care, and others.
Your loved one may benefit from memory care services such as emotional support, assistance with a hobby or activity, or company while looking through photo albums and collectibles. Home care services may also provide your family additional peace of mind by providing a daily wellness check and an update on your loved one's health.
Learn More Today
Visiting Angels of Orland Park and LaGrange is here to assist if your loved one needs memory care or has been diagnosed with a cognitive disorder in order to achieve the highest quality of life possible. For more information on our comprehensive memory care services, contact us or your neighboring agency straight away!
Serving Orland Park, LaGrange, Flossmoor, Hinsdale, and the Surrounding Area
Visiting Angels
ORLAND PARK, IL
11532 W 183rd St #NW
Orland Park, IL 60467
Phone: 708-226-1028
Fax: 708-226-1025