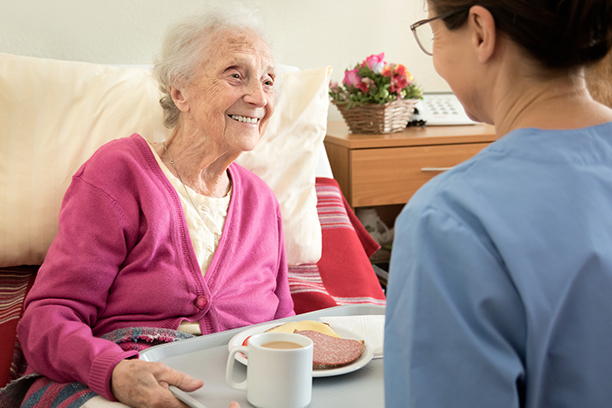 Senior Care in New Lenox, IL
Visiting Angels of Orland Park Hires Only the Most Experienced Senior Care Aides for Our Clients in New Lenox
Sometimes it seems, the more we age, the more health issues creep up on us. For many older adults this is the case. While some seniors can still care for themselves independently, a great many cannot. At Visiting Angels of Orland Park that is where we come in to help, providing exceptional senior care services.
Relied upon by many families in New Lenox and the surrounding areas, you can trust our professional caregivers to support your loved one when they need it most. If your family requires on-site help caring for an elderly loved one, then call us today to find out more about how an aide can give you and your senior peace-of-mind.
Our Services
Visiting Angels of Orland Park offers a wide range of senior care services to pick and choose from:
Comfort Is Key
First and foremost, our senior care agency believes that assuring the comfort of our older adult clientele is the key to essential care. As such, before beginning eldercare services on-site, we take the time to sit down with our client and their family to design the best care plan possible for them.
You are always guaranteed a truly personalized experience with Visiting Angels of Orland Park. Although comfort is the main goal with our seniors, we also focus on bettering a person's everyday life, reducing pain, and aiding recovery. Certainly, these factors are possible, and our caregivers are there to support you along your journey to improved health.
Companions at Heart
Whether it is a specific request or a result of a growing bond with your caregiver, companionship is provided regardless of the eldercare package you choose. That is because when a caring, compassionate caregivers is by your side, you are assured a friendly, smiling companion to waylay feelings of loneliness, anxiety, and isolation. Essential to improving health is having someone patient and understanding to talk to, and that is something our caregivers deliver.
Care Outside the Home
Above all else, what truly sets Visiting Angels of Orland Park apart is that our senior care services do not restrict your loved one to their home. If they would like accompaniment for a walk at a local New Lenox Community Park or their upcoming medical visit at Silver Cross Hospital, one of our caregivers will be there for them. Are they interested in grabbing a bite to eat with their friends at Williamson's Restaurant and Bar? That is not a problem at all either!
Contact Visiting Angels of Orland Park
Do you have a loved one in New Lenox who needs companionship or eldercare services? If so, do not hesitate to contact us today at Visiting Angels of Orland Park. With a quick call to 708-226-1028, you can book a free, in-home assessment for your elderly loved one or get more information on our senior care services.
Serving Orland Park, LaGrange, Flossmoor, Hinsdale, and the Surrounding Area
Visiting Angels
ORLAND PARK, IL
11532 W 183rd St #NW
Orland Park, IL 60467
Phone: 708-226-1028
Fax: 708-226-1025