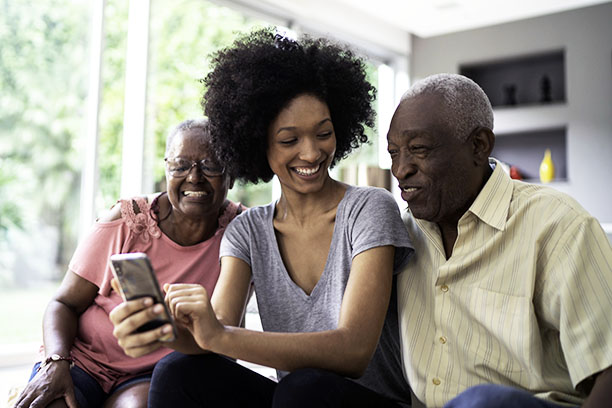 Elder Care Services in Orland Park, LaGrange, IL, and the Surrounding Area
In Orland Park, we are fortunate to have access to beautiful parks, recreation facilities, and entertainment options. At Visiting Angels, we believe in providing care for the whole person, meaning that everyone of all ages deserves to enjoy nature, a healthy social life, and the hobbies they love most. When your loved one receives elder care services through Visiting Angels of Orland Park, they will have access to local amenities, companionship care, social opportunities, and more.
Visiting Angels Provides Elder Care Services to Help Seniors Stay Connected in Orland Park, LaGrange, Flossmoor, Hinsdale, and Nearby Cities
Feeling connected to family, friends, neighbors, and the community is important to feeling healthy, social, and happy.
Seniors often run the risk of isolation, which can lead to:
loneliness
anxiety
depression
other negative health impacts
Our one-on-one elder care services incorporate opportunities to pursue activities your loved one enjoys, attend community events, and socialize because we know it is important to everyone's health.
How Visiting Angels Helps Seniors Stay Social
Our essential elder care services incorporate social care in a variety of ways. Our caregivers can work with your loved one to access their laptop, use the internet, try out social media, or understand their phone's capabilities. Texting, emailing, and video chatting are all great forms of interaction for seniors, especially those impacted by mobility loss or chronic illness.
When you build your custom care plan, we will also work with you to incorporate the activities, hobbies, and places your loved one will most enjoy. Aside from senior centers, recreation centers, or church activities, we will help your loved one access their favorite park, coffee shop, place to shop, or a friend's house. Maintaining former hobbies is also important and has positive effects on mental and emotional health.
We will encourage your loved one to continue engaging in:
crafts
gardening
cooking
music
art
any other hobby they enjoy
Getting Started with Our Essential Care Services
The heart of our elder care services is companion care. That means we work hard to make sure that the caregiver we provide to you and your family is a good fit, both in terms of professional experience and specialties and in terms of personality traits. Many of our clients come to consider their caregiver to be part of their family. You will have the opportunity to interview any caregiver we recommend to you in hopes that we can find a great fit who will be able to build a positive, lasting bond with your loved one.
If you are helping to care for a loved one who lives alone, Visiting Angels of Orland Park can make sure they continue to engage with the community, hobbies, opportunities to socialize, and other aspects of life care that are important to all of us. Our home care services can help your loved one enjoy the best possible quality of life in Orland Park, LaGrange, and the surrounding area. Contact us today at 708-226-1028 to learn more about our senior care services.
Our caregivers are here to help your loved one stay connected with our home care services. Call us today to learn more!


Serving Orland Park, LaGrange, Flossmoor, Hinsdale, and the Surrounding Area
Visiting Angels
ORLAND PARK, IL
11532 W 183rd St #NW
Orland Park, IL 60467
Phone: 708-226-1028
Fax: 708-226-1025