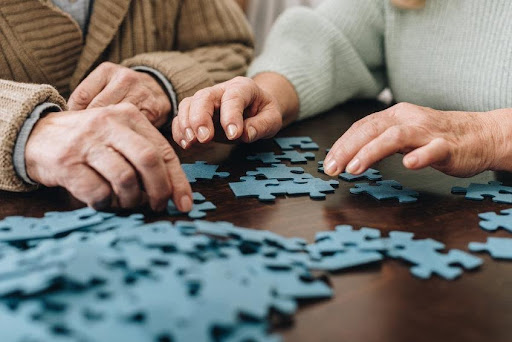 5 Brain-Stimulating Activities for Dementia
Keeping an active and engaged mind is beneficial for cognitive health, especially for those living with dementia. Actives such as exercises, art, music, and maintaining a daily routine can positively contribute to mental health. If your loved one is living with dementia, consider engaging them in daily activities to improve their mood, calm anxious behaviors, and provide a sense of control to their everyday environment.
5 Brain-Stimulating Activities to Try
Many activities can help engage your loved one with dementia, from board games and exercise to cooking and reading. Find an activity your loved one enjoys and keep them engaged as often as possible
Board Games
Research shows that the risk of developing dementia is 15 percent lower in board game players than in non-players. Board games work critical thinking skills, reasoning, and memory. Games of strategy such as chess and checkers are perfect for challenging seniors to visualize and plan their moves and opponents' moves. Strategic games also involve weighing the pros and cons of each movement to ensure solid decision-making. In addition to chess and checkers, you can also play classic games like Trouble, Monopoly, Mancala, and Chutes and Ladders. These games not only exercise the brain but are fun for the whole family.
Exercise
Physical activity is excellent for the body, and it's also essential for taking care of the mind. According to Mayo Clinic, regular exercise can even combat Alzheimer's disease risk factors, such as obesity and depression. If your loved one is physically able, try to get them moving their body for at least 30 minutes a day. Your loved one can go for a walk, cycle, swim, or do yoga. Make sure to consult your loved one's doctor before starting any new physical routines.
Cooking
Eating well-balanced meals is excellent for your overall health, but the act of cooking works cognitive functions and promotes healthy emotions. The next time you prepare a meal for your loved one, encourage them to join you in the kitchen. The two of you can decide on a recipe to try and take turns cooking. You can even turn cooking into a daily or weekly ritual to give your loved one something to look forward to.
Reading
Reading is a fun way for seniors to practice their literary skills and boost their imagination. Consider reading daily newspapers, magazine articles, biographies, novels, or short stories. If reading doesn't come naturally to your aging loved one, offer to read a story aloud or ask if they'd like to read a children's book to grandchildren.
Sensory Crafts
Sensory crafts are activities that involve the use of multiple senses. Sensory crafts generally include activities that encourage seniors to use their sense of touch, such as finger painting or pottery. Working with different shapes and textures can help seniors with a cognitive decline through tactile stimulation and creativity.
How Visiting Angels Can Help
At Visiting Angels, we offer specialized senior home care services specifically designed to address the needs of seniors living with dementia. Our caregivers can provide light housekeeping, meal preparations, personal grooming, mobility assistance, and transportation. Our South Central Michigan office serves those in Adrian, Jackson, Brooklyn, and Lenawee, Hillsdale, and Jackson counties through South Central Michigan. If you'd like to learn more about our services, you can complete this online form or call 517-273-2410.