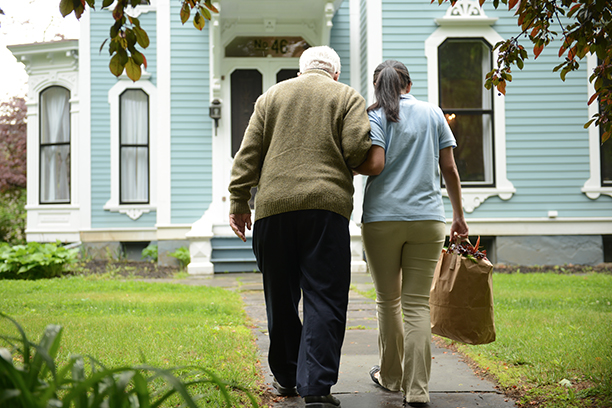 Welcome to the Vets March to End Alzheimer's 2020 Campaign!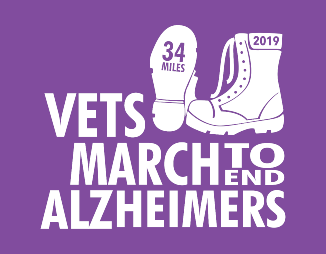 We are so thankful for the opportunity to address you - right here, right now. So here's our story and why we are so passionate and excited for you to join our team or to show your support.
Our Story
I'm Major Tim Welbaum, Army Reservist and Combat Vet, with 16 years of service as of March 2020. I also own Visiting Angels South Central Michigan located in Adrian. For nearly three years, we've been a community leader in providing homecare services to our senior community, and these experiences have shed light on one very common disease: Alzheimer's.
After our first year in the home care industry, we quickly realized that Alzheimer's and various forms of Dementia were very common among our friends, family members and throughout our communities.
Did you know:
1 in 3 seniors will die from Alzheimer's or Dementia

Vets with Post Traumatic Stress Disorder (PTSD) or Traumatic Brain Injury (TBI) have an increased chance of 2 - 4 times that of the average person (which is already extremely high)

Alzheimer's kills more than breast cancer and prostate cancer combined every year, yet few people know anything about Alzheimer's.
With someone developing Alzheimer's every 65 seconds in the United States, we need your help desperately in fighting to #ENDALZ!
After seeing the trend of this horrific disease haunting the families that we've provided home care services for, we knew we had to learn more about this disease. And that's when we discovered the Alzheimer's Association.
The Alzheimer's Association has a fantastic mission that aligns closely with our own and is community-focused. We knew right away that we needed to get involved and build a lasting partnership. You may have heard of the Alzheimer's Association's largest nationwide even to raise awareness and Alzheimer's research funds, The Walk to End Alzheimer's.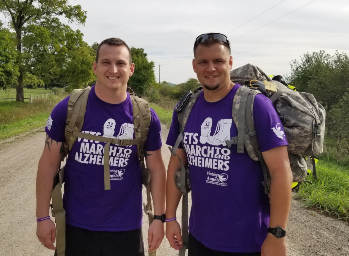 How the March to End Alzheimer's Began
Scott, who is also a Combat Vet and my office manager at Visiting Angels, helped me develop our successful Vets March to End Alzheimer's Campaign. This was our way of putting a fun, military spin on this already great event. The plan was to march military style while wearing 35-40 pound rucksacks from our office in Adrian to the Alzheimer's Association's, Michigan Great Lakes Chapter office in Ann Arbor. Once we arrived, we would present them with our large check consisting of all of the wonderful donations we'd have collected to that point from all the fundraising our event helped us accomplish.
Our goal in 2018 was to raise $33,000 for the Alzheimer's Association, representing $1,000 for each mile we were going to attempt to march, which was estimated to be 33 miles. We later found out it was 34.5 miles. But what's another 1.5 miles when you've already gone 33?? Am I right?!
When the dust settled in 2018, we had successfully raised an incredible $68,404. We were the top team in the state of Michigan, and we finished around 21st in the nation, with myself being humbled to have placed 10th in the nation as an individual fundraiser.
Since we had so much success in 2018, we came back again in 2019 with our goal set at raising $70,000 which would represent $1 for every step it would take to march the 34.5 miles. By the end of 2019, the Vets March Campaign successfully raised $70,629 as a result of so many wonderful people supporting this beautiful campaign and mission. And Scott had an incredible finish as 8th place throughout the nation for his individual fundraising efforts!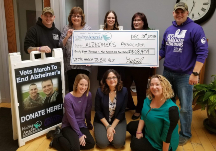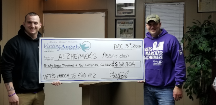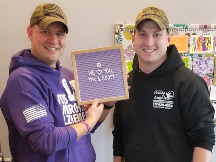 "We're all in this fight together, and it truly showed during our 2018 and 2019 Alzheimer's campaigns. Each mile we marched and every dollar we raised represents hope, continued research, and a dream to find the cure to Alzheimer's disease for all of those affected. I couldn't be happier with what we all worked together to achieve." - Tim Welbaum
Want to learn more about the success of our 2018 and 2019 Vets March to End Alzheimer's events? Check out full details here!
The 2020 March to End Alzheimer's
So, guess what - we're back again for 2020, and this year, we need your help! As you can imagine, it's not an easy task raising $70K with a small handful of people, which is why we want to build a huge team of cheerleaders to help us spread the word about the Alzheimer's Association and to get on board with fundraising a few bucks.
In this fight, EVERY dollar counts!! And no, if you join our team to fund raise and help us spread the word, you don't have to march with us. However, there is a very short and slow paced Walk to End Alzheimer's event that we will also participate in located in Lenawee County that you could join us in if you really wanted to. That event is scheduled to occur on Sept 13th, 2020.
So how about it?! Will you join our team and help us stir up some support? It's much easier than you think. Click below to join our team! You can link you social media profiles to our team page so that all the donations you raise as an individual can be tracked to our team correctly!

If joining our team isn't the right fit for you, you can make a one-time donation which will support the Alzheimer's Association in the fight to End Alzheimer's disease.

Again, every donation, small or large, helps us get that much closer to the World's first Alzheimer's Survivor. We also have had roughly 30+ corporate sponsors each year. So if you or your business wants to be one of our corporate sponsors, we'd be honored as well! If you have any questions or would like to talk more about corporate sponsorship, joining our team or supporting our cause, please feel free to reach out to me at 517-920-4254.

For more information about Alzheimer's disease or to check out the free resources and programs available in your community, feel free to go to www.alz.org. For immediate assistance, use the Alzheimer's Association's 24/7 Helpline: 800.272.3900.
Read through new articles, listen to interviews, and watch videos from our March to End Alzheimer's events in 2019 and 2018.
Serving Adrian, Jackson, Brooklyn and the Communities of Lenawee, Hillsdale and Jackson Counties throughout South Central Michigan
Visiting Angels
SOUTH CENTRAL MICHIGAN
3300 N Adrian Hwy
Adrian, MI 49221
Phone: 517-920-4254
Fax: 888-306-0434