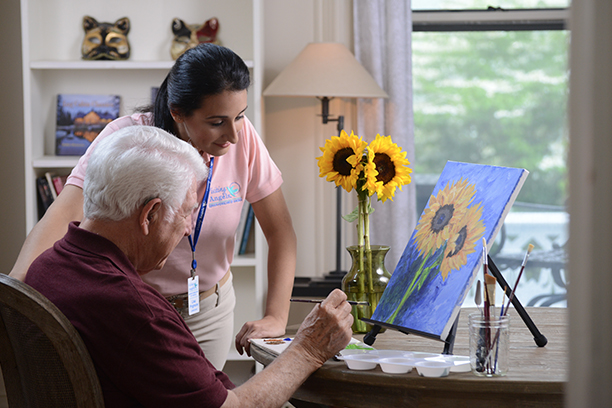 Frequently Asked Questions About Non-Medical Home Care Options in Adrian, MI and Surrounding Areas
With years of experience with providing non-medical home care to seniors in Adrian, Jackson, Brooklyn and surrounding communities in Lenawee, Jackson and Hillsdale Counties, Visiting Angels South Central Michigan can answer some common questions about our services
Q. What kind of non-medical home care services do you provide in Adrian and throughout South Central Michigan?
A: At Visiting Angels South Central Michigan, we provide an array of non-medical elder care services designed to help seniors with a variety of tasks and enable them to continue living safely and independently at home. Our services usually include fall prevention, assistance with personal hygiene, toileting, medication and fluid reminders, light housekeeping, meal planning and meal preparation, accompaniment, respite care for family caregivers, grocery shopping and/or running errands and more.
Q: What does the term "aging in place" mean?
A: The term is widely used in the caregiving industry to describe the ability of an individual to remain living in their own home or the home of a family member through the entirety of their golden years. Aging in place is the opposite of institutional care provided in nursing homes, but in some cases, it may also mean the ability to stay in an assisted living facility.
Q: Do you provide elder care services in assisted living facilities?
A: Yes, we do that as well. Sometimes seniors come to the conclusion that the assistance provided in assisted living facilities is not adequate or sufficient enough for them to remain independent. When this is the case, Visiting Angels South Central Michigan can provide additional senior care inside an assisted living facility to provide an additional level of support for aging adults.
Q: How quickly can non-medical home care services be provided/started?
A: In general, our services are provided within a 48-hour time frame, but in the majority of cases, we can start working on the same day we receive your request.
Q: Can I change the schedule if I have appointments to keep?
A: You can make schedule changes whenever you need them. Just let us know one week in advance. With Visiting Angels South Central Michigan, you and your family will always come first, so we will make any necessary changes to better fit your routine and schedule.
Q: How do I start senior care services with Visiting Angels South Central Michigan?
A: Get in touch with our Adrian, MI office. We will send our team member to your home to conduct a free, no-obligation assessment. Then, at your direction, we will propose a caregiver who has the skills, personality and availability to assist Mom or Dad. When you get to meet the caregiver and are satisfied with the match, they will begin providing non-medical home care services for your loved one.
Serving Adrian, Jackson, Brooklyn and the Communities of Lenawee, Hillsdale and Jackson Counties throughout South Central Michigan
Visiting Angels
SOUTH CENTRAL MICHIGAN
3300 N Adrian Hwy
Adrian, MI 49221
Phone: 517-920-4254
Fax: 888-306-0434