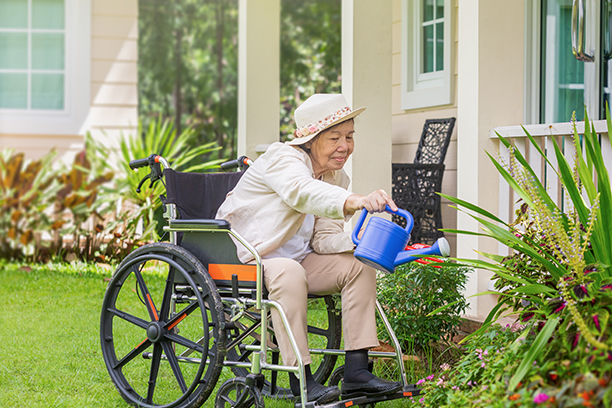 Helping Seniors in Adrian, MI and Surrounding Areas Avoid Hospital Readmission Through Reliable Private Home Care Services
Our Ready-Set-Go Home program includes transitional care and private home care services so seniors in Adrian, Brooklyn, Jackson and surrounding areas in MI can get the support they need at home after being discharged from the hospital to avoid readmission
If your mom or dad is about to be discharged from a hospital following a prolonged stay due to an illness, injury or complicated surgery, you need to plan ahead and prepare them to return home. During this period, restoring their health as quickly as possible and minimizing potential risks that can place your loved one back at the hospital should be your top priority. However, achieving this requires your loved one to follow recommendations from their medical team and may require you to dedicate a large amount of time and effort to help them successfully recover. You may have other priorities and not be able to spend that much time helping your loved one recover, but they still need additional care and support to regain their health and strength.
At Visiting Angels South Central Michigan, we are committed to helping families around Adrian, Onsted, Brooklyn, Tecumseh, Jackson, Blissfield, Palmyra, Hillsdale and surrounding areas throughout Lenawee, Hillsdale, and Jackson Counties during the hospital-to-home transition through the Ready-Set-Go Home program. Our Ready-Set-Go Home program is offered through Life Care Navigation – an extensive collection of private home care services designed to help older adults with different aspects of aging.
Why Are Seniors in Adrian and Throughout South Central Michigan Prone to Being Readmitted to the Hospital?
Let's take a quick look at the most common reasons behind hospital readmissions in seniors:
Various problems with adequately managing a disease or illness in a home setting

Medication issues caused by improper use or skipped doses

Inability to fully adhere to discharge instructions

Lack of a timely follow-up with scheduled appointments
How Private Home Care Services from Visiting Angels South Central Michigan Can Help Your Loved One
At Visiting Angels South Central Michigan, we utilize a three-prong approach when providing transitional care for recently discharged seniors. Our goal is to help our clients follow their doctor's recommendations for recovering at home, keep families in the loop in regards to their loved one's well-being and reduce the likelihood of being readmitted to the hospital.
Here's how we do it:
At the hospital – We start providing quality care for your loved one before they're even released home. On demand, we visit the client at the hospital, deliver copies of our discharge planning guide and assist family members with planning and filing paperwork.
At the client's home – When your loved one finally returns home, our caregivers do everything they can to promote recuperation and make sure doctor's orders are followed by providing proactive and comprehensive private home care services. Additionally, caregivers keep in touch with the medical team and family members and regularly provide information on Mom or Dad's condition, so that any arising issues can be addressed as quickly as possible.
At our local office – Back at our Adrian office, we provide logistics and support your family and our designated caregiver working with your loved one at home. Our team members help coordinate medication, equipment, and food delivery services, offer medication and appointment reminders, and schedule transportation to appointments when necessary.
Learn more about our private home care services and how our caregivers can help your loved one safely recover at home by calling our Adrian, MI office today. Visiting Angels South Central Michigan is looking forward to working with you!
Serving Adrian, Jackson, Brooklyn and the Communities of Lenawee, Hillsdale and Jackson Counties throughout South Central Michigan
Visiting Angels
SOUTH CENTRAL MICHIGAN
3300 N Adrian Hwy
Adrian, MI 49221
Phone: 517-920-4254
Fax: 888-306-0434