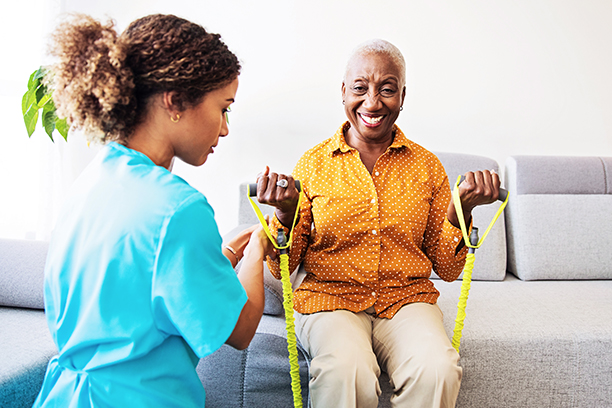 Care at Home for Seniors with Alzheimer's in Adrian, MI and Surrounding Areas
When Providing Alzheimer's Care at Home for Seniors in Adrian, Brooklyn, Jackson and Throughout South Central Michigan, Support is the Most Important Resource
There are roughly 5.5 million people with Alzheimer's disease in the United States. Alzheimer's is a progressive brain disorder that is characterized by severe memory loss and leads to serious cognitive decline. No cure is available for the condition. However, there are various steps you can take to make the whole situation a little bit more bearable for your loved one and your whole family.
It is important to keep in mind that treatments and therapies are available for Alzheimer's patients that may slow down the progression of the condition. These strategies can definitely improve your loved one's quality of life. Finally, your parent can receive professional Alzheimer's care at home from expert caregivers from Visiting Angels South Central Michigan and maintain their routine in the comfort of their home.
Most Common Signs of Alzheimer's Disease
If you suspect that your loved one has Alzheimer's but have not confirmed the diagnosis with their medical team, take a look at the 10 most common signs of Alzheimer's disease:
Short-term and long-term memory loss: forgetting people, names, events, dates, purposes for items, and more.
Trouble solving simple problems: being unable to follow favorite recipes, pay bills, concentrate on daily tasks.
Difficulties performing routine activities at home or at work.
Confusion about time and place: not knowing what date or season it is, not being aware of the passage of time.
Difficulties comprehending visual images and spatial relationships: trouble reading, measuring distance, determining colors.
Problems with speaking or writing: being unable to find words, finish sentences, follow conversations.
Misplacing items: placing items in places where they do not belong, being unable to retrace one's steps.
Decreased judgment: not paying attention to what was once important, falling prey to scams.
Withdrawal from social activities.
Mood changes: depression, anxiety, mood swings, unwillingness to open up to others.
If your loved one shows several of these signs, it is best to speak with medical professionals and have them screened for Alzheimer's disease. If a doctor confirms that your parent indeed has Alzheimer's, you may wish to care for them or opt for professional care at home from Visiting Angels South Central Michigan. The first option may be a good idea in the beginning, but as the condition worsens, you are likely to need outside help.
How Can Care at Home Help My Loved One After They've Been Diagnosed with Alzheimer's?
Here is what you should do as soon as your loved one gets diagnosed with Alzheimer's:
Learn about the condition. The more you know about the illness, the more you will be prepared to help your loved one in the middle and later stages of the disease.
Take care of your loved one's financial, legal, and care plans. Talk to them about nursing homes or care at home and discuss end of life issues.
Encourage mental stimulation. Listening to music, solving puzzles, and playing memory games are just some of the strategies you can employ to improve the symptoms of the condition.
Get support. Taking care of a loved one with Alzheimer's is hard, overwhelming at times. Reach out to others for help, join local and online support groups, and make sure to care for your mental and physical well-being too.
Arrange respite or long-term professional care. You may be able to care for your loved one in the beginning, but you will need help over time. Respite care is a good solution for those times you need a break from caregiving, but expert care at home for Alzheimer's patients can make a real difference for your whole family.
You are not alone and you do not have to go through this alone! For more information about our Alzheimer's care program and how we can help your loved one, contact our Adrian, MI office today. We are here for you!
Serving Adrian, Jackson, Brooklyn and the Communities of Lenawee, Hillsdale and Jackson Counties throughout South Central Michigan
Visiting Angels
SOUTH CENTRAL MICHIGAN
3300 N Adrian Hwy
Adrian, MI 49221
Phone: 517-920-4254
Fax: 888-306-0434