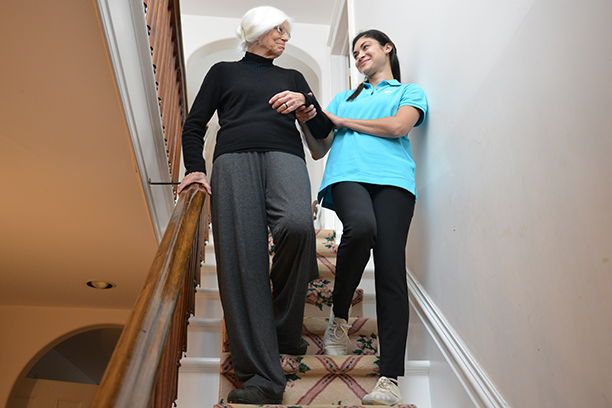 Why Choose Private Home Care Providers from Visiting Angels South Central Michigan?
At Visiting Angels, our private home care providers are committed to providing personalized and compassionate in-home senior care for elderly adults throughout Adrian, Jackson, Brooklyn, Onsted, Hillsdale and surronding areas in South Central Michigan
Years go by so fast. One moment you are a teenager and the next one, you have your own kids. Later on, you may start taking care of your aging parent or relative. While this is a good short-term solution, sooner or later, your loved one will need a high level of care. Considering that you have a family and your own goals and path to follow, sometimes it will be very hard to be there for your loved one. It's much easier, safer and better for your loved one to receive professional in-home senior care services and spend time with you whenever you are can.
Visiting Angels can help your loved one live safely and comfortably in their own home or in an assisted living facility. Our caregivers provide high-level elder care services for seniors and are skilled and compassionate. They will help your loved one with everyday tasks while allowing them to maintain their schedule.
We Adjust to You
You don't adjust to our plans and schedules, we adjust to yours. Choosing our agency means that you won't have to worry about drastic changes in your senior's daily schedules. Our private home care providers respect our client's privacy and lifestyle and want to help them leave happily in their home.
Trusted and Safe
Our agency is bonded and insured therefore rest assured that you will choose a trustworthy caregiver.
Monitoring and Check-ins for the Best Senior Care
One of the reasons why we provide such high-quality elder care is that we constantly monitor our client's schedule and care plan, making adjustments if needed. Through home visits and check-ins, our system gives us a true image of how our clients are doing. We strive to deliver the best possible in-home senior care services.
Our Private Home Care Providers Are Here for Every Client in Adrian and Surrounding Communities
Every individual has different ambitions, dreams, goals, personalities, as well as different health needs. The same goes for seniors. We offer a wide range of elder care services to suit the needs of seniors. From respite care and full-time care to care at an assisted living facility, our caregivers can be of service.
If you'd like to know how our private home care providers could enhance your loved one's quality of life, please contact our Adrian, MI, office today!
Serving Adrian, Jackson, Brooklyn and the Communities of Lenawee, Hillsdale and Jackson Counties throughout South Central Michigan
Visiting Angels
SOUTH CENTRAL MICHIGAN
3300 N Adrian Hwy
Adrian, MI 49221
Phone: 517-920-4254
Fax: 888-306-0434