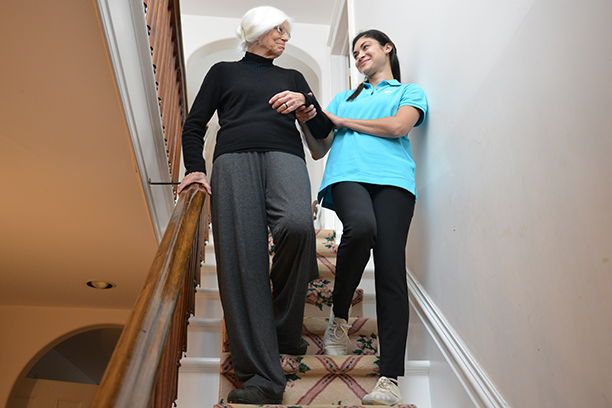 Private Pay Homecare: Financing Options For Senior Care Services in Adrian, MI and Surrounding Areas
As a private pay homecare agency, Visiting Angels works in families in Adrian, Brooklyn, Jackson and surrounding areas in South Central Michigan to finance elder care services
Over the past few years, homecare services have become the preferred alternative to long-term care facilities and assisted living communities. Older adults can now get high-quality senior care at affordable rates directly at home and remain independent for longer without having to relocate.
If you are considering working with a professional care agency in the near future, you probably have many questions about the process. One of the most common concerns is about the cost of professional senior care services.
At Visiting Angels South Central Michigan, we accept private pay methods. What this means is that in almost every case, clients pay for the provided elder care services privately, out of pocket. Nonetheless, there are certain options your loved one may be eligible for that may help cover the costs of homecare.
Veterans Benefits
As a veteran owned and operated agency, Visiting Angels South Central Michigan is proud to be an approved provider for Home Health Aide (HHA) and Respite visits for all seniors who are eligible to receive benefits from the Veterans Administration (VA). HHA visits are designed to help seniors with daily activities required to maintain an independent life at home whereas Respite visits are geared toward relieving the family caregiver over short periods of time.
If your loved one is a veteran or the spouse of a veteran, make sure to check their eligibility requirements with your local VA office.
Click here for more information about veterans benefits.
Long-Term Care Insurance
As most regular health and medical insurance plans do not provide coverage for long-term homecare services, sometimes families opt for a specific insurance policy to help cover the costs of care for their loved ones – it is called long-term care insurance. This kind of policy is usually taken out years earlier as a means of saving for future elder care needs.
Click here to learn more about long-term care insurance.
Auto Insurance Benefits
If your loved one has been injured in an auto accident, their auto insurance may be able to cover the cost of care. Visiting Angels South Central Michigan accepts no-fault automobile insurance benefits like Attendant Care, which can cover the cost of an in-home caregiver.
Click here to learn more about auto insurance benefits.
Out of Pocket
Older adults can pay for their services privately when they do not have long-term care insurance and are not eligible for veterans benefits. Families of such seniors often make arrangements to pay directly from their income or saving accounts or choose to share expenses.
To get you started with Visiting Angels South Central Michigan, we will first offer you a free in-home consultation. During the consultation, we take the time to know your loved one and learn more about their health, needs, personality and preferences, so that we can create a plan of care based on their unique requirements. We will also discuss schedules, costs and financing options.
Call our Adrian, MI office today to learn more about our homecare services and what we can do for your family. We are here to answer any question you might have and guide you through your options. Visiting Angels South Central Michigan is happy to help!
Serving Adrian, Jackson, Brooklyn and the Communities of Lenawee, Hillsdale and Jackson Counties throughout South Central Michigan
Visiting Angels
SOUTH CENTRAL MICHIGAN
3300 N Adrian Hwy
Adrian, MI 49221
Phone: 517-920-4254
Fax: 888-306-0434