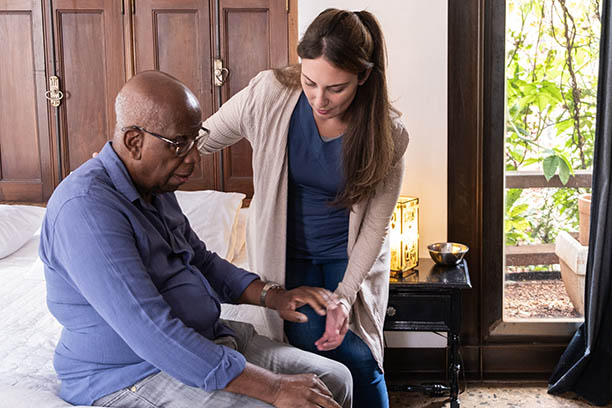 Comforting In-Home Palliative Care Services for Seniors in Adrian, MI and Surrounding Areas
At Visiting Angels, our Certified Palliative Care program aims to alleviate discomfort for seniors in Adrian, Jackson, Onsted, Brooklyn, Hillsdale and surrounding communities in South Central Michigan who are suffering from serious illnesses, regardless of life expectancy
When your loved one is suffering from a chronic condition or major illness, it's important that they stay as comfortable as possible. Even though they may be receiving the medical care they need, they may need soothing care at home to complement the care they already receive from healthcare professionals. This will ensure that they can remain comfortable and content during their golden years. When seniors seek comfort, they turn to Visiting Angels South Central Michigan for personalized palliative home care services.
Palliative and hospice services are terms that are often used interchangeably, but they are actually very different. While hospice care is provided for individuals with a terminal diagnosis or those that are dying, palliative services are provided for a much larger range of individuals with conditions that require a heightened level of care that are not in the final stages of their lives.
The Benefits of Palliative In-Home Care for Seniors in Adrian and Nearby Communities
For us here at Visiting Angels South Central Michigan, palliative care is a mission. We want to make sure that the individuals in our care are only receiving the elder care services they need, when they need them, making way for them to live their lives as fully as possible. To do this, we hire only the best caregivers out there. All of our caregivers view their jobs as more than just jobs. For them, their work with Visiting Angels is meaningful, rewarding, and, quite simply, a career.
We carefully screen all candidates and put them through an extensive interviewing process. At the same time, we make sure that they work in a rewarding environment that supports their growth as a professional, allowing them to learn new skills and advance in their work.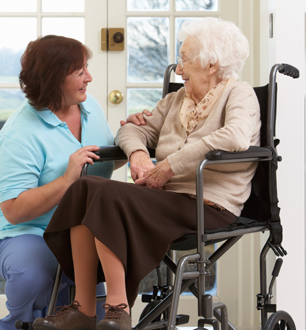 How Can Palliative Care Help My Loved One?
We hire the best local caregivers because we understand the importance of compassion in providing top-quality palliative services. As we provide non-medical elder care to seniors in Adrian, MI, we want to make sure that all of our clients receive care in a dignified environment that supports their well-being at all times. We are here to provide support in a soothing and comforting environment, tending to the physical, emotional, social and spiritual needs of seniors in our care.
As part of our Certified Palliative Care Program, we provide a wide range of in-home care services. We help older adults with anything they need throughout the day including:
Bathing
Grooming
Dressing
Toileting and incontinence care
Mobility assistance
Transferring and positioning
Medication management
Meal preparation
Light housekeeping
And so much more
Whatever your loved one needs, we are here to help.
What's more, all of our care plans are customized and adjustable at any time. We believe that the key to palliative care is making sure we approach each client as and individual. This means that we understand that each senior will have a particular set of need and preferences and their care needs to reflect that.
To find out more about our home care services, please call our Adrian, MI office today.
Serving Adrian, Jackson, Brooklyn and the Communities of Lenawee, Hillsdale and Jackson Counties throughout South Central Michigan
Visiting Angels
SOUTH CENTRAL MICHIGAN
3300 N Adrian Hwy
Adrian, MI 49221
Phone: 517-920-4254
Fax: 888-306-0434