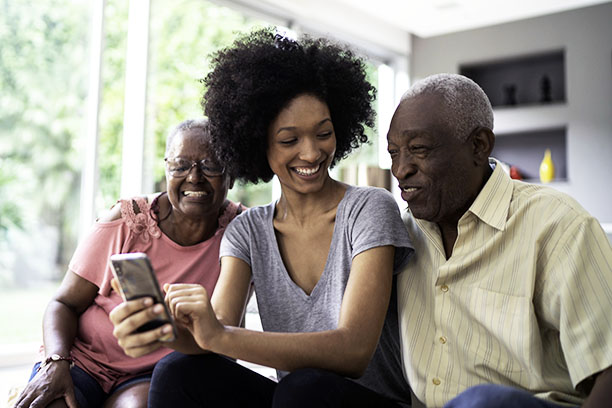 Social Care Program for Seniors in Westerville, OH and Nearby Areas
Currently, more seniors are technology savvy than ever. 67 percent of seniors use the Internet. Facebook use among users 65 and over is at 32 percent. Four-in-ten seniors own smartphones. Millions of seniors across the nation use technology to learn more about the world around them and maintain relationships with their family and friends.
"Because of this program, I was able to experience two of the greatest joys in life – becoming a grandmother and seeing my son become a new father. Skyping and Facebooking with my son and his family are now a normal part of my life. It helps me feel like I'm still an important part of their lives even though I'm miles and miles away."
- Kathryn
At Visiting Angels of Westerville, we provide caregiver services to help seniors in Westerville, Powell, Gahanna, Worthington, Columbus, New Albany and surrounding Ohio communities utilize modern technology to stay connected with the people, places, and things that they love the most. We teach our seniors how to use a variety of different platforms including Skype, Facebook and Facetime. With our Social Care Program, your loved one can learn more about technology and boost their mental, as well as their physical health.
Helping Seniors in Westerville and Surrounding Areas Stay Connected with the Social Care Program
A 2018 Gallup poll found that the number of adults aged 65+ with active Facebook accounts has doubled in recent years. Researchers at Oregon Health and Science University found that seniors who used video chat apps (Skype, Facetime, etc.) had half the probability of depressive symptoms that those who didn't.
Figuring out technology can come with a steep learning curve. At Visiting Angels of Westerville, our home care professionals can work at your loved one's pace to ensure they learn as much as possible, without getting frustrated.
We teach our clients a variety of different integral internet tasks including:
Creating a Facebook account
Using an internet search engine
Sending an email
Interacting with family and friends on social media
At Visiting Angels of Westerville, we believe in a holistic approach when providing caregiver services to seniors in Northeast Franklin and Delaware Counties. We believe in prioritizing all needs of the individual, including physical, mental, spiritual and social. They all are of vast importance when measuring the overall health of the client.
Want to learn more about our Social Care Program and other caregiver services? Want to schedule a free consultation? Contact us at your earliest convenience at (614) 392-2820 to begin your senior care journey.
Serving Columbus, Westerville, Powell, Gahanna, Worthington, New Albany, and Surrounding Areas
Visiting Angels
WESTERVILLE, OH
100 Dorchester Sq, #101
Westerville, OH 43081
Phone: 614-392-2820