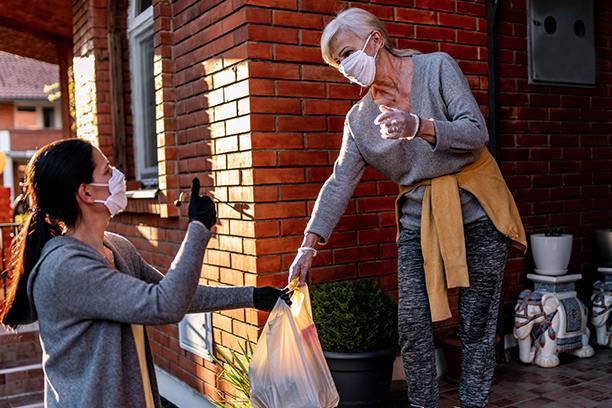 Elderly Assistance Provided for Seniors with Alzheimer's in Glendale, West Valley, AZ and Nearby Cities
Visiting Angels Offers Seniors with Alzheimer's Disease Elderly Assistance in Glendale, West Valley, Peoria, Westbrook Village, and Surrounding Areas
Alzheimer's disease is a serious cognitive disorder that worsens over time, often over the course of a few years. Characterized by progressive memory loss, changes in behavior and overall mental decline, seniors who suffer from Alzheimer's disease generally have a harder time completing daily tasks.
When someone is diagnosed with Alzheimer's, the average life expectancy is four to eight years. While some individuals live fifteen to twenty years following the diagnosis, this is rare. Approximately five and a half million Americans, most of whom are over the age of sixty-five, are living with Alzheimer's and nearly 200,000 Americans under the age of sixty-five suffer from Early Onset Alzheimer's. In the United States, Alzheimer's disease is the sixth leading cause of death.
If your loved one has recently been diagnosed with Alzheimer's, Visiting Angels of Glendale is here to help with tips and elderly assistance. Below, our professional caregivers offer answers to many of the questions you may have as well as information about our elderly assistance programs.
Dementia and Alzheimer's
The term "dementia" is used to describe a variety of cognitive disorders in which memory loss is common. Alzheimer's disease is a type of dementia and is also the most common. Estimates show that 60% to 80% of all individuals with dementia suffer from Alzheimer's. Therefore, everyone with Alzheimer's has dementia. However, not everyone with dementia has Alzheimer's.
Causes and Risk Factors of Alzheimer's
Unfortunately, the exact cause of Alzheimer's disease remains unknown to scientists. Be that as it may, scientists have found links between certain conditions and the development of Alzheimer's disease. The three greatest risk factors are:
Poor Heart Health

Genetics

Old Age
While these are the top there, there are other risk factors which can include:
Air pollution exposure

Heavy drinking

High stress

Sleeping disorders

Head trauma

Heavy smoking
Alzheimer's Symptoms, Early Signs, and Progression
The earliest signs of Alzheimer's are generally found in a person's speech. When your loved one begins to show signs of irregular speech, thought patterns, or behavior, this might be an early indication of Alzheimer's. Notable symptoms of Alzheimer's include:
Short and long-term memory loss

Difficulty answering simple questions or solving simple problems

Difficulty completing daily activities

Forgetting or mixing up words

Frequently losing items

Confusion about time, place, or names

Depressed, irritable, or irrational behaviors
Scientists believe that individuals may contract Alzheimer's years before showing any symptoms. Because Alzheimer's is a progressive disease, symptoms generally grow worse over the years. The first signs of Alzheimer's are generally minimal and will hardly pose a problem to an individual's well-being or daily life. However, as it progresses, symptoms will go from mild to severe. In the final stages, an individual may be unable to speak, unable to understand speech, unable to complete basic tasks such as eating and lose all short and long-term memory. When seniors with Alzheimer's have a difficult time completing basic tasks, it may be time to look for elderly assistance.
How Visiting Angels of Glendale Can Help
At Visiting Angels of Glendale, we understand that seniors suffering from Alzheimer's disease need more care to remain safe and healthy. In the middle stages, seniors with the disease often receive care from family or friends. However, as Alzheimer's progresses, professional elderly assistance is frequently needed.
Moving your loved one to a nursing home or an assisted living facility is not your only option. In fact, relocating to an unfamiliar setting is often traumatic to people with Alzheimer's. Visiting Angels of Glendale offers another option: elderly assistance in the home. Our services are tailored specifically to the needs and preferences of your loved one with Alzheimer's and allow them to safely age in place. Unlike traditional home care, our Alzheimer's services are built to care for the unique obstacles of the disease and provide the care your loved one needs.
If your loved one is suffering from Alzheimer's disease, contact us at 623-244-5354 today, and ask about our elderly assistance programs for seniors with Alzheimer's.
Serving Glendale, West Valley, Peoria, Arrowhead, Westbrook Village, Phoenix, and the Surrounding Areas
Visiting Angels GLENDALE, AZ
7200 W Bell Rd #E103
Glendale, AZ 85308
Phone: 623-244-5354