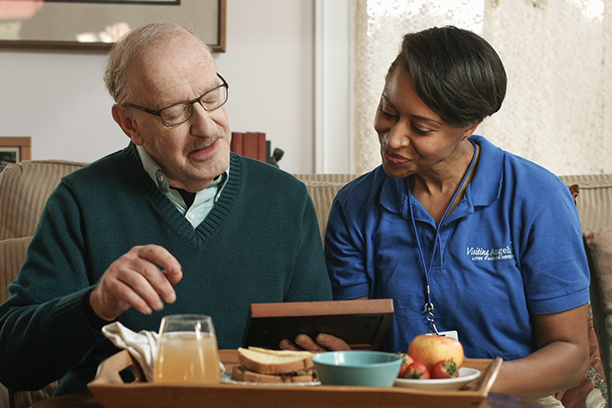 Home Care Assistance for Fall Prevention in Glendale, West Valley, AZ and the Surrounding Area
Visiting Angels Offers Excellent Fall Prevention Home Care Assistance for Seniors in Glendale, West Valley, Peoria, Phoenix, and Nearby Cities
While it is common knowledge that falls can cause severe physical injuries to seniors, it is far less well-known that falls can damage a person's emotional well-being as well as their social life. Falling can drastically impact your loved one's quality of life and make them fearful of leaving the house or doing the things they love. This can lead to loneliness, anxiety, depression, and social isolation. To combat this, Visiting Angels of Glendale offers home care assistance to help your loved one prevent falls as well as improve their quality of life.
How Falls Impact Your Loved One's Life
Every year, one in five seniors suffers a serious or lasting injury from a fall such as a concussion, broken hip, or fracture. In general, it takes a lot longer for injuries in seniors to heal than in younger adults, which can drastically increase the time your loved one has to spend in a long-term senior care facility. Though oftentimes, seniors who go to long-term care facilities for a fall-induced injury never return home again for fear of falling or inability to heal completely. Over 800,000 seniors are admitted to the hospital every year due to falls, and most seniors who fall once are likely to fall again. Other important statistics about falls in the elderly community:
Every 19 minutes a senior dies from a fall
Falls are the leading cause of fatal injury in seniors
One in four senior Americans experience a fall each year
The average cost of treating a fall is $30,000
At Visiting Angels of Glendale, we want to help you prevent this from happening to your aging loved one, which is why we offer home care assistance that is specifically made to prevent falls.
Visiting Angels of Glendale Can Help
At Visiting Angels of Glendale, we provide excellent in-home senior care so that your loved one can enjoy the best quality of life possible. Our home care assistance program offers seniors help to identify risk factors for falling and we even provide a free fall risk assessment during your in-home consultation. Most falls can be prevented by being aware of these risk factors that exist in your loved one's home. Risk factors can include the physical or medical condition of your loved one, such as arthritis and dehydration, or your loved one's surroundings, such as not having enough grab bars around the house. Using a cane or a walker can also reduce the risk of falling.
Learn More
Visiting Angels of Glendale is dedicated to helping seniors and their families be aware of fall risk factors. If you are concerned that your loved one may be at risk of falling, call us today at 623-244-5354 and ask about our home care assistance programs for seniors in Glendale, Peoria, Phoenix, and the surrounding area.
Serving Glendale, West Valley, Peoria, Arrowhead, Westbrook Village, Phoenix, and the Surrounding Areas
Visiting Angels GLENDALE, AZ
7200 W Bell Rd #E103
Glendale, AZ 85308
Phone: 623-244-5354