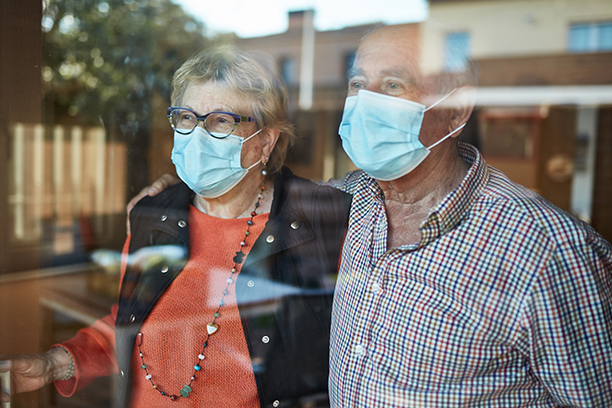 Dementia Care in Glendale, West Valley, AZ, and the Surrounding Area
Visiting Angels Offers Hands-On Dementia Care to Help Seniors Struggling with Dementia in Glendale, West Valley, Peoria, Phoenix, and Nearby Cities Remain Independent at Home
It can be a terrifying moment for the entire family when a loved one is diagnosed with a neurological disorder such as Alzheimer's or dementia. At Visiting Angels of Glendale we know that families want the best for their elderly loved ones and we deliver dementia care to guarantee their best possible quality of life within their home's safety and comfort.
The Benefits of Care at Home for Dementia Patients
If your aging loved one has been diagnosed with Alzheimer's, dementia, or other degenerative cognitive diseases, that does not mean they have to leave their home. In fact, familiar surroundings and the comforts of home can play an important role in your loved one's emotional health. A caregiver can coordinate with your loved one's medical care providers to ensure they have access to every resource they need.
It is important to find dementia care that works in tandem with your loved one's doctors. Often referred to as "wrap-around services," lifestyle supports and resources that reinforce medically recommended advice that increases your loved one's health and decrease their risk of accident, injury, and illness. We can help your loved one stick to dietary guidelines from their doctor, physical therapy regimens, attending medical appointments, and more. If you cannot attend a doctor's appointment, a caregiver can accompany your loved one and provide you with the details later that day.
Establishing a Routine
Our experienced caregivers can help establish a stable, healthy, and comforting daily schedule for your loved one. Having a routine increases feelings of security and well-being, while also establishing healthy habits like sticking to your medication schedule, regular meals, and getting regular rest. We'll work with you to build a daily plan that's right for your loved one's needs, preferences, habits, and abilities.
Daily dementia care services are designed to help your loved one maintain a clean, safe, and familiar home environment. A home care provider can assist your loved one with daily tasks like laundry, linens changing, meal preparation, getting the mail, and medication reminders. Your loved one's care plan might include more intensive assistance, like help with mobility, transportation to medical appointments or day centers, and personal care including bathing, grooming, and toileting.
Learn More About Our Essential Care Services
If your loved one has been diagnosed with Alzheimer's, dementia, or another cognitive disease, they do not have to immediately move into a live-in facility. Help keep them comfortable at home for longer with in home care services from Visiting Angels of Glendale. Contact us today by clicking one of the buttons below to learn more about how our in home care can help your family in Glendale, Peoria, Phoenix, or the surrounding area.
Serving Glendale, West Valley, Peoria, Arrowhead, Westbrook Village, Phoenix, and the Surrounding Areas
Visiting Angels GLENDALE, AZ
7200 W Bell Rd #E103
Glendale, AZ 85308
Phone: 623-244-5354