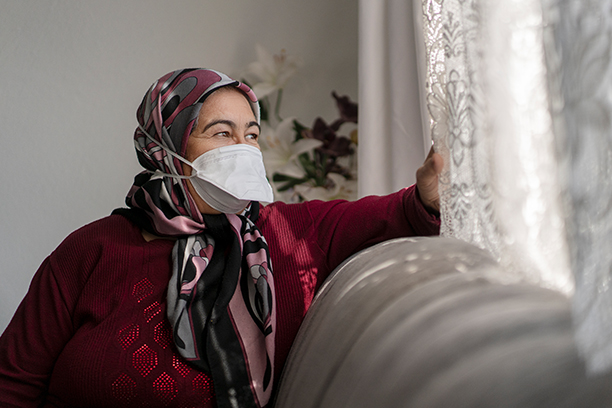 Visiting Angels Offers In-Home Alzheimer's Services to Help Seniors Stay Independent at Home in Glendale, West Valley, AZ and the Surrounding Area
If You Have an Aging Loved One in Glendale, West Valley, Peoria, Phoenix, or a Nearby City Who Is Struggling with an Alzheimer's Diagnosis, Visiting Angels Offers Comprehensive Alzheimer's Services to Help Them Stay Safe and Independent at Home
When a loved one has been diagnosed with Alzheimer's, it is important to find the right resources for your loved one and family. At Visiting Angels of Glendale, we have helped hundreds of families of all shapes and sizes adjust to the new normal of an aging loved one. If your loved one has been diagnosed with Alzheimer's or dementia, they do not necessarily have to leave their home, change their lifestyle, or enter expensive care facilities. There is no such thing as one-size-fits-all medical advice, and your loved one may be able to stay at home long-term. Our care coordinators will work with you to determine what kind of at-home Alzheimer's services can help your family.
Specialized One on One Care
Just like any other health diagnosis, the severity of the disease and its impact on your loved one will help your family and your loved one's doctors determine the kind of care that is needed. In-home Alzheimer's services are designed to provide resources and support for clients who wish to remain in their homes throughout their golden years. Visiting Angels of Glendale offers specialized care for clients with Alzheimer's or dementia diagnoses that can help your loved one remain comfortable at home for longer. Services we offer to help manage Alzheimer's Disease:
Medication and Hydration Reminders
Wandering Prevention
Establishing Healthy Routines
Transportation to Appointments
Assisting with Memory Care Activities
Companionship
Personal Care
Meal Planning and Preparation
Assistance with Daily Tasks
The Stages of Alzheimer's
In the beginning stages, Alzheimer's usually appears like forgetfulness. Memory loss might interrupt daily life but does not disrupt it. In the intermediate stages, changes in cognition start to become disruptive to everyday life. Your loved one might struggle to follow directions, find items, or keep a regular medication regimen. They may experience emotional symptoms, including anxiety, anger, depression, or mood swings. In the later stages, your loved one might struggle to communicate. They will likely need help with every aspect of their daily needs and activities.
A disease like Alzheimer's is considered progressive because it evolves over time. With Visiting Angels of Glendale, you can design an Alzheimer's services care plan that is progressive too. Your loved one's care plan can include help with transportation or mobility needs, making meals or keeping a clean home, and companionship care to help track symptoms and health conditions. In later stages, your care plan can include around-the-clock care, or personal care including bathing and incontinence care.
Schedule Your FREE, In-Home Assessment Today
If your loved one has been diagnosed with Alzheimer's or dementia, you can still honor their wish to age in place. Receiving essential home care services through Visiting Angels of Glendale can help your family support your loved one's ongoing quality of life. Call our agency today at 623-244-5354 to schedule your free, in-home assessment or virtual consultation to learn more about our Alzheimer's services in Glendale, Peoria, Phoenix, and the surrounding area.
Serving Glendale, West Valley, Peoria, Arrowhead, Westbrook Village, Phoenix, and the Surrounding Areas
Visiting Angels GLENDALE, AZ
7200 W Bell Rd #E103
Glendale, AZ 85308
Phone: 623-244-5354