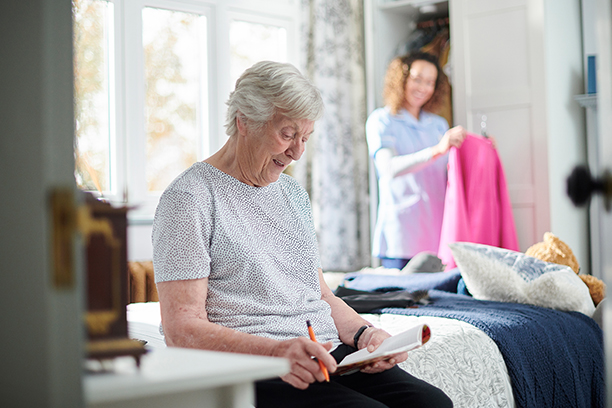 Explore Meal Planning and Preparation with Visiting Angels' Elderly Caregivers in Glendale, West Valley, AZ and Surrounding Cities
Visiting Angels' Elderly Caregivers Provide Meal Planning and Preparation in

Glendale, West Valley, Peoria, Arrowhead, and Nearby Areas
It is becoming more common for seniors to live out their golden years from the comfort and familiarity of their own homes. However, age-related difficulties can make living at home a challenge. If your loved one values their independence but struggles with everyday tasks such as meal planning and preparation, companion care is for you. Visiting Angels of Glendale's elderly caregivers help with meal planning and preparation to ensure better nutrition for your senior loved one.
What Does Companion Care Include?
At Visiting Angels of Glendale, our companion care services are customized to meet each client's individual needs. After discussing your loved one's needs and preferences, our care coordinators will develop a care plan. The plan can include help with:
Meal planning and preparation

including grocery shopping, storing leftovers, and washing dishes

Light housekeeping

such as laundry, dusting, vacuuming, and changing linens

Medication reminders

and monitoring

Mobility assistance

in navigating within their home or getting out to run errands

Transportation arrangements

such as calling a taxi or ride-sharing service or getting them to and from the bus stop
Why Is Healthy Eating Challenging for Seniors?
There are multiple reasons that contribute to unhealthy eating habits for seniors:
Loss of mobility or strength

- seniors often become weaker with age. Spending a lot of time standing at the stove or washing dishes may no longer be possible. Grocery shopping or visiting the farmers market is not an option for those who struggle with mobility or driving.

Convenient frozen meals and fast food

- without easy access to the grocery store, many seniors turn to frozen meals or fast food. However, processed foods are full of salt and preservatives; they often lack the nutrients your loved one needs.

Lack of appetite due to medication or depression

- some seniors simply don't feel hungry. This may be a side effect of their medications or due to mental health issues such as loneliness or depression. Cooking for one person or even a couple may seem like more trouble than it is worth, so your senior loved one may be skipping meals altogether.
How Can Visiting Angels of Cleveland Help?
Our elderly caregivers can help with the following tasks:
Planning meals and creating a grocery list

Grocery shopping

Organizing the kitchen to make dishes, utensils, and food easily accessible

Preparing nutritious meals and snacks, such as veggies and sandwiches

Cleaning up after meals

Storing leftovers

Taking out the trash as needed
Home Care that Fits Your Schedule
Visiting Angels of Glendale's elderly caregivers are a perfect fit for a variety of lifestyles. We can personalize our care to suit chronic health issues such as diabetes, asthma, and arthritis. We offer flexible scheduling options to fit your schedule and routine with hourly, overnight, or 24-hour shifts.
To learn more about our elderly caregivers in Glendale and surrounding areas, contact Visiting Angels of Glendale by clicking one of the buttons below to schedule a free consultation.
Serving Glendale, West Valley, Peoria, Arrowhead, Westbrook Village, Phoenix, and the Surrounding Areas
Visiting Angels GLENDALE, AZ
7200 W Bell Rd #E103
Glendale, AZ 85308
Phone: 623-244-5354