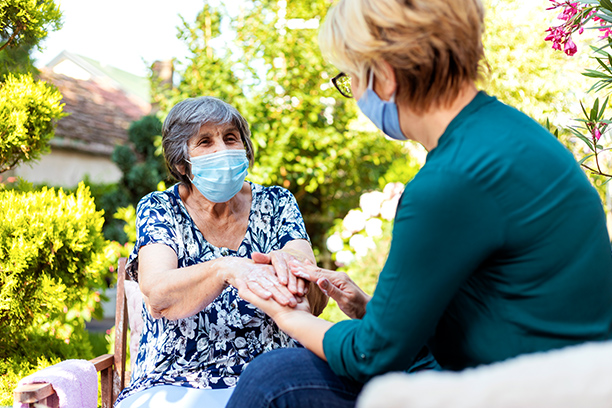 Certified Palliative Care Throughout Glendale, West Valley, AZ, and Neighboring Communities
Visiting Angels Helps Improves Seniors' Quality of Life with Our Certified Palliative Care in Glendale, West Valley, Peoria, Phoenix, and Surrounding Areas
Certified Palliative Care is defined as a disease management approach that emphasizes the preventative aspects of managing pain and other symptoms associated with chronic diseases. This type of care is usually offered by professional caregivers trained in the best practices of senior care. These professionals work together to provide holistic care that reduces pain while increasing comfort and dignity. In home care often is seen as the most beneficial option for Certified Palliative Care, as it helps seniors who otherwise would be too uncomfortable to attend regular doctors' visits.
What Is Holistic Care?
Palliative Care means a focus on pain reduction and increasing quality of life overall. It also means a wider focus on holistic health, and including emotional, mental, and social health resources in your loved one's care plan. It is a holistic approach to one on one care that can help seniors with a diverse range of needs, no matter their life expectancy. We can provide Certified Palliative Care in the following ways:
Physical - we can help your loved one with a wide range of physical needs like personal care, mobility assistance, exercise, and more.

Emotional - our agency is a shoulder to learn one, we truly care about the well-being of our clients and do our best to lighten their spirits in any way possible.

Social - our caregivers are companion at heart, meaning they will strive to build long-standing bonds with their clients. They will also be happy to take your loved one to social gatherings.

Spiritual - we can take clients to their religious center of choice so they can practice.
While Certified Palliative Care shares many characteristics of hospice care - they are not one in the same. Hospice care is only available for seniors who are diagnosed with limited life expectancy. Our program can work in conjunction with hospice programs.
Comprehensive Care Services
We can integrate the palliative strategies that are right for your loved one into their existing care plan, which is designed to evolve alongside their needs and health. Visiting Angels of Glendale offers comprehensive elderly care services, which includes:
Each of our senior home care services helps to support good holistic health for your loved one. A care plan might also incorporate social opportunities, the spiritual support of your loved one's choice, companionship, and emotional care. Focusing on these holistic aspects of everyday health can be especially helpful if your loved one is faced with challenging health, mobility, or ability circumstances.
Contact Us Today to Learn More
If you're concerned about the long-term well-being of a senior loved one, Visiting Angels of Glendale can help. We offer dedicated and knowledgeable caregivers, essential care plans, and a wide variety of services so that you can pick and choose which ones are right for your loved one. Contact our care agency today by clicking one of the buttons below to learn more about how our Certified Palliative Care program can help your loved one in Glendale, Peoria, Phoenix, or the surrounding area.
Serving Glendale, West Valley, Peoria, Arrowhead, Westbrook Village, Phoenix, and the Surrounding Areas
Visiting Angels GLENDALE, AZ
7200 W Bell Rd #E103
Glendale, AZ 85308
Phone: 623-244-5354