Home Care in Glendale, AZ, and the Surrounding Area
Visiting Angels is one of the top home care agencies helping seniors in Glendale, AZ, and the surrounding areas age in place.
We assist the elderly by providing a variety of services, such as:
Activities of daily living
And more!
If you or a loved one need assistance in order to continue living independently at home, our caregivers are here to help.
Visiting Angels Offers Compassionate, One-on-One Home Care to Seniors in Glendale, West Valley, Peoria, Arrowhead, Westbrook Village, Phoenix, Sun City, and the Surrounding Area
One-on-one essential care from Visiting Angels of Glendale can provide a much-needed respite for family caregivers. Particularly when dealing with long-term wellness issues such as diabetes, arthritis, multiple sclerosis, Parkinson's, congestive heart failure, or chronic obstructive pulmonary disease, professional assistance can take the pressure off family caregivers. Visiting Angels of Glendale's senior care services can be customized to fit your individual needs. During our initial meeting, we will meet with you and your loved one to discuss the specific needs that your loved one has and create a customized care plan tailored to the types of care they require.
For instance, you may choose to receive assistance with the following:
Errand Running
Laundry and Linen Changing
Book Your Free, In-Home Consultation
Getting started with senior care from Visiting Angels of Glendale is easy. When you contact our agency, we will begin by answering your questions and scheduling a complimentary home assessment. During this visit, we can discuss your scheduling needs and how we can customize care to serve you best. We can also provide a no-cost fall prevention assessment to help keep your loved one safe. Visiting Angels of Glendale makes it easy to get the care you need.
If you or a loved one need the assistance of a care professional, call Visiting Angels of Glendale today.

Apply To Our Open Caregiver Positions
Families throughout Glendale, Peoria, and Phoenix trust our locally owned and operated agency to care for their loved ones. Visiting Angels of Glendale works hard to provide essential one-on-one home care for members of our community. We are invested in the areas we serve and like to see the elderly and disabled members of our area living the lifestyle they enjoy. The owners and employees of our agency are residents of the Glendale area and have dedicated their careers to helping seniors. Senior care providers from Visiting Angels of Glendale are passionate about increasing the quality of life for the elderly and disabled in our area.
Flexible Scheduling
Paid Time Off
Paid Training Programs
Bonus Programs
Around-the-Clock Office Support
Opportunities for Growth


Read What Clients Think About Our Services
"Visiting Angels of Glendale is beyond EXCEPTIONAL and COMPASSIONATE at what they do. They are ALL a slice of heaven to work with and gave me so much hope over the past couple of years. Melissa, Kate, and ALL of the rest of their fabulous staff have saved me on countless occasions. They always go way above & beyond to provide the BEST service possible. They've become more than a business to me; they've become my family. It doesn't get much better than these people. They are the real Angels of the world."



Our Veterans Matter
Visiting Angels of Glendale is proud to serve the Veterans in our community and offer in-home supportive care to our community's Veterans and their beneficiaries.
Our Awards
Thank you to our amazing team and wonderful clients for helping us achieve The Glendale Star's Best of 2020 Senior Home Care Award. We are also honored to have won the 2022 Home Care Pulse Awards for Provider and Employer of Choice. We appreciate everything you do to make Visiting Angels of Glendale so great. This is a huge honor for us!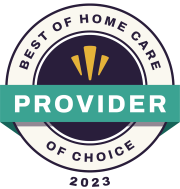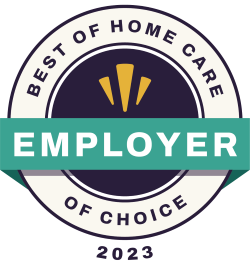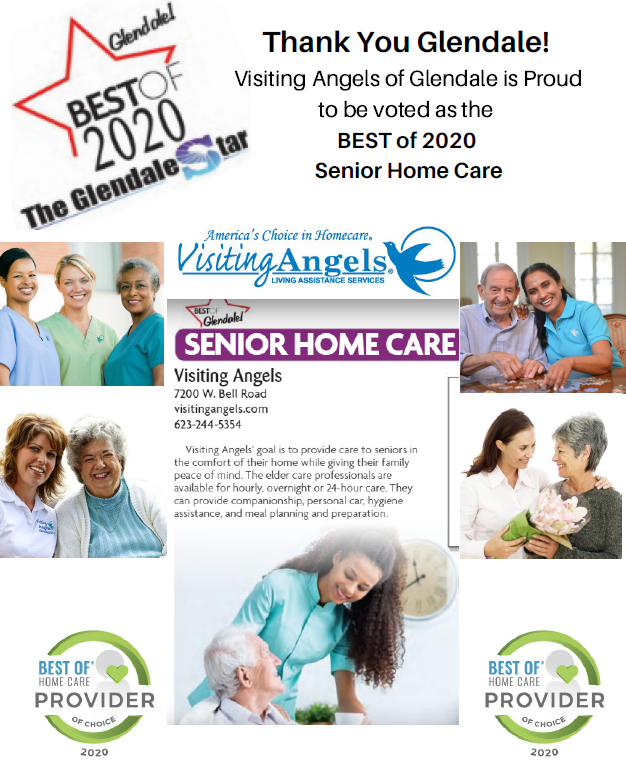 Essential Care Services
Visiting Angels of Glendale is considered an essential service for seniors throughout Glendale and the surrounding area. We offer a wide range of senior care services to help keep your loved one healthy and safe at home. Please contact our office today to see how we can assist your family.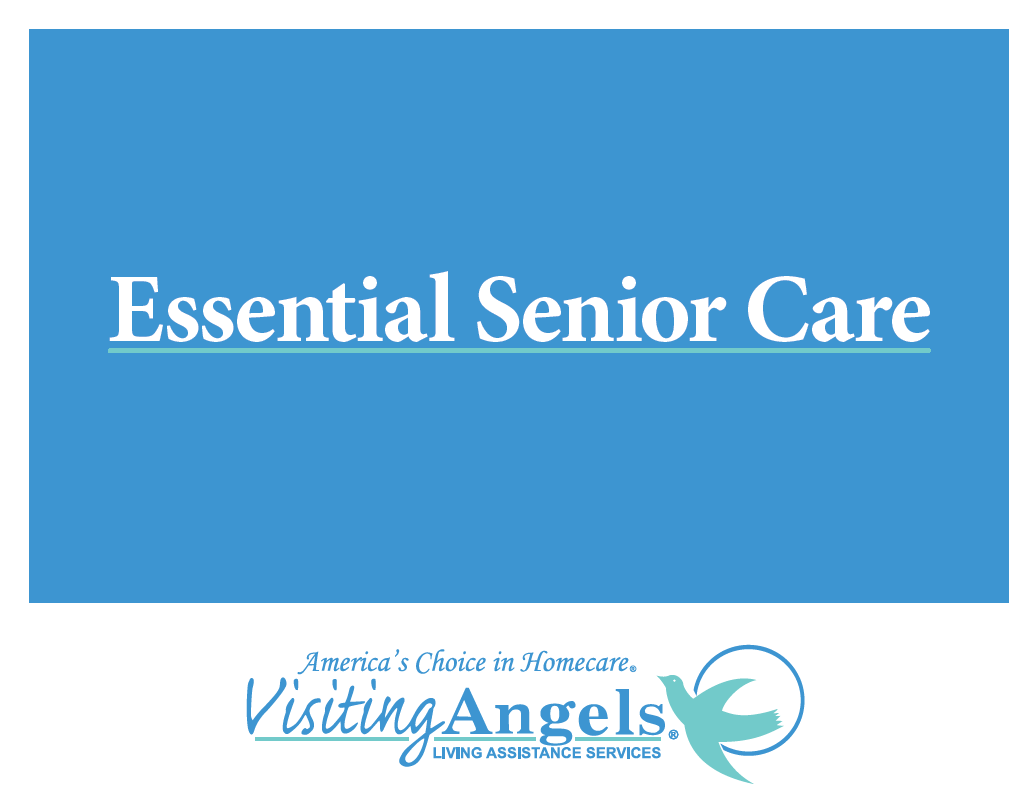 Virtual Consultations
Visiting Angels of Glendale is offering virtual consultations to help families get a better understanding of our services and care options before an in-home assessment. To schedule your free, virtual consultation with an experienced care coordinator, simply call our agency today!