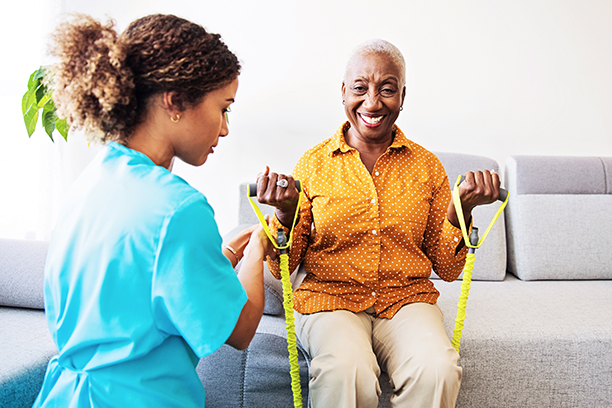 How In Home Living Assistance Helps Seniors in Greater Glendale, AZ
How Visiting Angels' Living Assistance Helps Seniors in Glendale, West Valley, Peoria, Phoenix, and Nearby Cities
If you are caring for an aging loved one, you probably have many daily concerns—is your loved one taking their medicine on time? Do they have enough fresh groceries? Are they being targeted by a financial scammer? How will they get to their next doctor's appointment? At Visiting Angels of Glendale, we specialize in providing the living assistance your loved one needs to truly enjoy their golden years.
How Do We Assist?
At Visiting Angels of Glendale, living assistance means helping our clients with all aspects of life. We help with meal preparation, medication reminders, light housekeeping, laundry, mobility assistance, linens changing, and more. We can also help your family focus on the safety of your loved one's home and making any lifestyle changes needed for their health conditions or diagnoses. These elderly care services can help keep your loved one happy and healthy at home for longer.
The care programs we offer are designed to help families with a wide range of needs:
Our Helpful Caregivers

Choosing in-home living assistance services can make the difference between worrying about your loved one's well-being every day, or knowing they have every resource at hand to enjoy the day. Our caregivers are licensed, bonded, insured, and fully trained, and we offer ongoing professional development to make sure our team stays informed of best practices in one on one care.
We match caregivers to your loved one based on any expertise or specialization that might be needed, and by personality traits, hobbies, and sense of humor. Our goal is to connect your loved one with an Angel who can offer empathy and enthusiasm for their well-being and provide daily care with compassion and dignity.
Contact Visiting Angels of Glendale
If you are helping to care for a loved one who lives alone Glendale, Peoria, Phoenix, or the surrounding area, Visiting Angels of Glendale offers the daily living assistance that can improve their quality of life. Call our agency today to learn more: 623-244-5354.
Serving Glendale, West Valley, Peoria, Arrowhead, Westbrook Village, Phoenix, and the Surrounding Areas
Visiting Angels GLENDALE, AZ
7200 W Bell Rd #E103
Glendale, AZ 85308
Phone: 623-244-5354