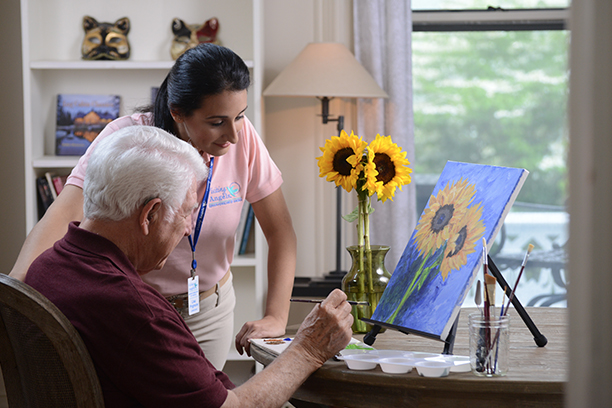 In-Home Care for Seniors in Lafayette Hill, PA
Seeing your loved one face the challenges of age and age-related conditions can be heartwrenching. Knowing what's best for them can be even more challenging—especially when weighing the benefits of aging in place against your own responsibilities.
You want to support their desire to enjoy their golden years at home, but you may not have the time or resources needed to help them yourself. Fortunately, Visiting Angels is here to help. Our experienced and compassionate caregivers in Lafayette Hill, PA are committed to fostering your loved one's safety and well-being.

No one should have to choose between their health and aging in place—and with Visiting Angels providing your loved one's care, you won't have to. Together, we can help your loved one remain at home, where they most want to be. Contact us today to learn more about our custom-tailored care plans and diverse array of home care services.

Our Approach to Personalized Home Care at Visiting Angels
Visiting Angels takes a personalized approach to home care, recognizing that everyone has unique needs and preferences. This approach begins with an in-person assessment at your loved one's home to understand their lifestyle, health condition, and personal preferences.

Based on this assessment, we develop a customized care plan that aligns with your loved one's needs and ensures they receive the most appropriate home care services. This collaborative approach not only enhances the quality of care but also fosters a meaningful connection between your loved one and their caregiver.

Our Home Care Services
At Visiting Angels, our home care services do more than just help seniors with the day to day activities; they significantly enhance the quality of life for seniors, offering them the support they need to enjoy their golden years in the comfort of their own homes.

Offering such a wide range of home care services helps us create a care plan for your loved one that can be adjusted as their needs change, ensuring they remain healthy, safe, and comfortable.
Companion Care
Our caregivers in Lafayette Hill, PA understand that companionship is fundamental to the well-being of seniors, particularly for those who prefer to age in their own homes. Our companion care services focus on providing seniors with the social interaction and engagement they need, helping with daily activities, and offering a friendly, supportive presence. This service ensures your loved one receives the enrichment and emotional support they need to thrive at home.
Personal Care
Our personal care services foster your loved one's independence and dignity by providing assistance in a respectful and compassionate manner. Our caregivers in Lafayette Hill, PA will respectfully assist your loved one with day-to-day personal needs, from hygiene and grooming to transportation.
Palliative Care
Palliative care focuses on making a person more comfortable while managing a chronic condition or navigating a new disability. Our caregivers can help your loved one manage their symptoms and chronic pain to make their days more pleasant.

Additionally, our palliative care services go beyond physical needs, addressing the holistic well-being of our clients. We focus on providing care that addresses spiritual, physical, emotional, and social needs, aiming to improve overall quality of life, regardless of your loved one's health status or physical ability.
Social Care
Our social care program helps seniors stay connected with their loved ones and the world around them. By teaching your loved one how to use modern technology and social media, we empower them to initiate social interactions and maintain relationships, which positively impacts their emotional well-being.

The social care services include:
Setting up social media accounts
Helping clients use Skype and email
Learning how to shop online and search for local social events
Alzheimer's & Dementia Care
Dealing with memory conditions can be challenging for seniors and their families, especially when it comes to supporting them as they age in place. Medical professionals often recommend that those with Alzheimer's disease or dementia remain at home, as familiar surroundings can ease symptoms and slow the progression of these conditions.

Our specialized Alzheimer's and dementia care services are designed to improve the quality of life for our senior clients living with these conditions. We provide a safe, comfortable environment, foster their physical health and safety, and provide comfort and emotional support, ensuring their daily lives are fulfilling and dignified.
End of Life Care
Our end-of-life care services are designed to provide compassionate support to our clients and their families. Our caregivers in Lafayette Hill, PA can provide ease by ensuring your loved one is comfortable, cared for, and surrounded by empathy and respect. They can also provide support to the families by taking on certain daily tasks, freeing family members to be fully present with their loved one.

Our end-of-life care services include:
Meal preparation
Laundry
Changing bed sheets

Light housekeeping

Grocery shopping

Errands
…and more

Fall Prevention Program

Seniors are at a higher risk of falling and becoming injured than other age groups because of age-related conditions like arthritis and brittle bones.

Our fall prevention program can help keep your loved one safe at home by reducing the risk of falls and preventing serious injuries. We assess each home for potential fall hazards and provide seniors with guidance on how to navigate their homes safely.
Respite Care
We understand that family caregivers need time to rest and recharge—in fact, they're at a higher risk of burnout than other kinds of caregivers, making self-care a crucial component of being able to care for your loved one.

Our respite care services allow you to take a break while our professional caregivers provide your loved one with exceptional care.
Recovery Care
Following an illness or surgical procedure, most individuals prefer to recover in the comfort of their own homes. Our recovery care services in Lafayette Hill, PA are designed to help your loved one do just that.

After an inpatient hospital stay, injury, or medical procedure, our caregivers will provide the assistance they need during recovery. From light housekeeping and meal prep to medication reminders, they'll do what's needed to help them relax and heal.
24-Hour Care
Our 24-hour care services ensure your loved one has access to professional, compassionate care at any time of the day or night. We'll assign caregivers to work back-to-back shifts—as soon as one caregiver finishes a shift, another will take their place. That way, your loved one will always have someone to assist them during the day and monitor them overnight. This comprehensive care option is ideal for seniors with more complex care needs, providing peace of mind for them and their families.
Live-In Care
Our live-in care services provide your loved one with continuous support from a dedicated caregiver. One of our professional caregivers will reside with your loved one and assist them with the activities of daily living, provide compassionate companionship, and help them keep their home tidy and free of tripping hazards. This kind of care can help your loved one age in place safely and comfortably, maintaining their independence while receiving the personalized care they need.
Why Choose Visiting Angels
Choosing Visiting Angels means choosing a home care service provider committed to providing personalized, high-quality senior care. Our wide range of home care services in Lafayette Hill, PA is designed to cater to the unique needs of every client, ensuring they receive the care they need to live comfortably and safely in their own homes.

When you choose Visiting Angels, you can expect:
Compassionate and experienced caregivers committed to providing personalized care.

Customized care plans tailored to your loved one's unique needs and preferences.

A wide range of comprehensive services to meet a wide variety of needs.

Regular check-ins and communication with our caregivers to ensure that your loved one's needs are being met.

A commitment to the highest quality of care and customer service.

Areas We Serve
The Caregivers at Visiting Angels Are Ready to Serve You
Our caregivers at Visiting Angels are not just highly trained and experienced—they're also compassionate individuals ready and willing to make a significant difference in the lives of local seniors. Whether your loved one requires companionship, personal care, or needs help navigating a new disability, our caregivers are always ready to provide the necessary support to improve the lives of each of our clients.

If your loved one in Lafayette Hill, PA, needs home care services, we're here to help. Reach out to us today to start the process of creating a personalized care plan.

Serving Jenkintown, Abington, Huntingdon Valley, Glenside, Chestnut Hill, Flourtown and the Surrounding Areas
Visiting Angels
JENKINTOWN, PA
1250 Greenwood Ave #1A
Jenkintown, PA 19046
Phone: 215-938-7201
215-938-7202
Fax: 215-887-7204