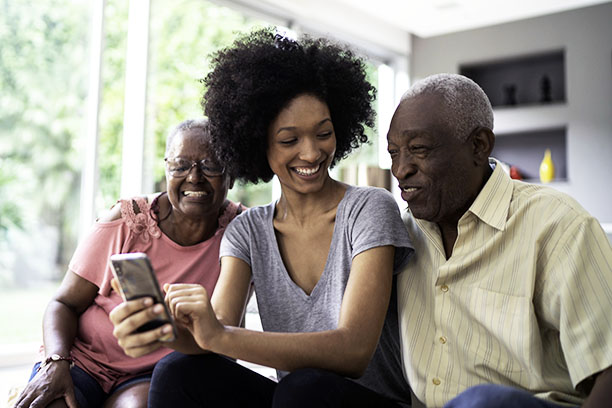 In-Home Services for Seniors in the Greater Cleveland, GA Area
What's the connection between in-home services and Visiting Angels of Cleveland social care program? A lot, and you probably do not even have an idea of how important our social care program is to your loved one's overall well-being and health. Basically, our social program keeps your elderly loved one connected socially with their friends and family through the use of social media platforms. This is a part of the Visiting Angels of Cleveland's holistic approach to one-on-one care in Cleveland, GA and the surrounding areas.
How Visiting Angels' In-Home Services and Social Care Program Can Benefit Seniors in Cleveland, GA, and the Surrounding Areas
There are many different ways our in-home services can help your loved one.
Some of the benefits of social care and using technology include:
Depression is reduced by as much as 20% just by surfing online.
As much as 25% improved working memory is experienced by older adults when they surf the internet.
Through the measurement of breathing rate, pupil dilation, and brain stimulation, positive emotional experiences can be gauged in older adults. And it shows that by just visiting Facebook and other social networking sites, they are already experiencing a positive emotional experience.
By becoming social, the elderly also experience a reduced risk for depression, lower blood pressure, reduced risk for Alzheimer's, and reduced risk for osteoporosis, some cancers, and cardiovascular problems.
At the other end of the spectrum, elderly clients who are socially isolated have higher risks for high blood pressure, greater risk of death, and are lonely and depressed.
What's Included in Visiting Angels of Cleveland's Social Care Program?
We will aid in teaching them how to use FaceTime and Skype, sending and creating e-mails, as well as text or instant messaging systems.
Visiting Angels of Cleveland's in-home services will aid them in learning how to look for information online, log in to their online accounts, and even buy their needs online.
Some older adults are not tech-savvy, so even just using a mobile phone can be overwhelming for them. We will help them learn the basics of using a mobile phone through our in-home services.
Contact Visiting Angels of Cleveland at (706) 219-1415 to learn more about our social care program and how we can help your aging loved one.


Because of this program, I was able to experience two of the greatest joys in life – becoming a grandmother and seeing my son become a new father. Skyping and Facebooking with my son and his family are now a normal part of my life. It helps me feel like I'm still an important part of their lives even though I'm miles and miles away.

Serving North Hall, East Lumpkin, White, Habersham, Stephens, and Rabun Counties
Visiting Angels
CLEVELAND, GA
24 W Jarrard St
Cleveland, GA 30528
Phone: 706-219-1415