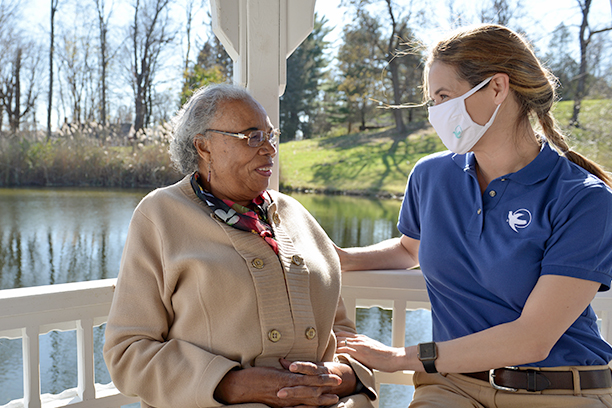 Specialized Memory Care for Seniors in Palm Beach Gardens, FL and Surrounding Areas
Contrary to popular belief, seniors who have been diagnosed with dementia or Alzheimer's don't need to move to a nursing home or an assisted living facility in order to receive professional care. In fact, staying at home is actually a better option for them. That's because being able to receive care at home allows them to remain in familiar surroundings instead of having to relocate somewhere new and unknown.
Luckily, Visiting Angels offers high-quality specialized memory care to seniors living in Palm Beach Gardens, Jupiter, Juno Beach, West Palm Beach and surrounding communities in Florida. If your loved one suffers from Alzheimer's, dementia or another memory-related illness, our home health care services will help them age at home and stay safe, happy and comfortable. With help from our trained caregivers, your loved one will be able to maintain their independence and get the level of care they need.
How Our Memory Care Services Helps Seniors in Palm Beach Gardens and Surrounding Communities
Due to severe changes in the brain caused by dementia, your loved one will experience memory loss and confusion. Seniors who suffer from Alzheimer's or dementia have difficulty concentrating, learning new things, speaking and can even experience frightening hallucinations and disorientation. We understand that these seniors require extra care and support which is why we offer personalized and flexible care plans for seniors with memory-related illnesses.
At Visiting Angels Palm Beach Gardens, we will work with you and your loved one to create a plan that includes they home health care services they need and allows them to follow their everyday routine. Over time, as your parent's disease progresses, we will make the needed adjustments and help your loved one stay safe and comfortable for years to come.
Our caregivers can assist your parent with:
Meal Preparation: Our caregivers will make delicious and nutritious meals for your loved one.
Mobility Assistance: We will help your loved one move safely around their house if their illness is affecting their physical health.
Assistance with Grooming and Dressing: We will help your loved one get dressed, take a bath or shower, go to the toilet and more.
Medication Reminders:

In order to ensure your parent takes their medications as prescribed, our caregivers will provide medication reminders.
Light Housekeeping: We will assist with light housekeeping such as dusting, sweeping, mopping, vacuuming, laundry and more.
Wandering Prevention: Providers of our home health care services will keep an eye on your parent and make sure they don't wander off.
Transportation: Whether your parent needs to go to a scheduled appointment, run errands or go shopping, we will provide transportation.
Fall Prevention: Seniors with dementia are prone to falling. Our caregivers will fall-proof your parent's home so they can stay safe.
To learn more about our home health care services and our specialized memory care, don't hesitate to contact our Palm Beach Gardens, FL office at 561-264-0866.
Serving Palm Beach Gardens, Palm City, Jupiter, Juno Beach, Hobe Sound, Stuart, West Palm Beach and throughout Palm Beach County and Martin County, FL
Visiting Angels
PALM BEACH GARDENS, FL
8645 N Military Trl #407
Palm Beach Gardens, FL 33410
Phone: 561-264-0866
Fax: 561-328-7607
Looking for more information on specific types of memory care? Click through to the pages below to learn more about how our caregivers can assist adults with a variety of cognitive care needs.