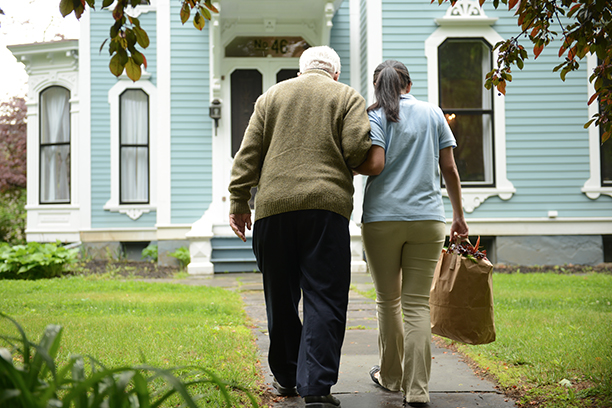 What Makes Visiting Angels Dallas Different from Other Local Elderly Care Providers
Visiting Angels is the leading elderly care provider for families in East Dallas, Lakewood, the Park Cities and surrounding communities in Dallas, TX
Welcome to Visiting Angels Dallas! We understand how overwhelming it can be when dealing with a loved one who is having difficulty maintaining their independence, and not knowing where to go for help. As one of the most trusted home care agencies in the Dallas area, Visiting Angels is committed to helping seniors get the support they need while giving families peace of mind.. Visiting Angels Dallas can help your loved one "age in place" because there is no place like home.
The Visiting Angels Dallas Difference
When it comes to local senior care options in the Dallas area, there are so many choices - nursing homes, assisted living facilities, home health agencies (nursing agencies), home care agencies and more. However, only you can choose what's right for you.
At Visiting Angels Dallas, we realize that it is never easy bringing someone into your home to provide care. So we strive to make staying at home a positive experience. We do this by allowing you to select your caregiver from a group of experienced caregivers, allowing you to maintain your schedule and providing you or your loved one with personalized in-home elderly care.
We Work with Your Schedule
You are in charge of everything. At Visiting Angels Dallas, we will not dictate to you what your schedule is to be (i.e. what time to get up, when to bathe, meal schedules etc.). It is our job to adjust to your schedule and to see to it that you remain comfortable in your own home. Visiting Angels - senior care at its best!
Bonded, Insured & Licensed
Our home care agencies are required to be bonded and insured. This can give you the peace of mind that a trustworthy caregiver employee will be in your loved one's home. Our agency is also licensed with State of Texas Department of Aging and Disability Services.
Monitoring is Essential
At Visiting Angels Dallas, we are trained to continuously monitor our caregivers through our unique system of continued personalized contacts through telephone check-in and home visits. We want to ensure that elderly care recipients receive the best possible care.
Tailor Your Care to Your Needs
No two people are the same. Therefore their needs are going to be very different. Whether you need respite care, part-time or full-time care or care at an assisted living facility, Visiting Angels Dallas can provide an experienced caregiver that is right for you. Our agencies tailor your elderly care plan based on your needs and we are flexible to change the program as different needs arise. We will also work along with any home health agency or nursing agency that may be assisting your loved ones after a recent hospital stay.
Contact our Dallas, TX office to learn more about our home care solutions today!
Serving Park Cities, Lakewood, Lake Highlands, East Dallas, Casa Linda and Surrounding Communities in Dallas, TX
Visiting Angels
PARK CITIES, TEXAS
8350 N Central Expy #M1018
Dallas, TX 75206
Phone: 214-273-1843
Fax: 214-853-5328