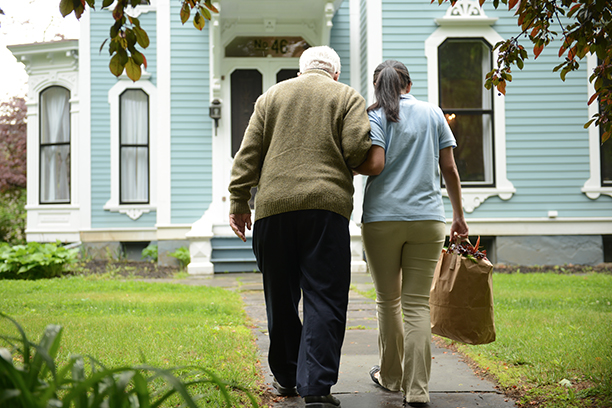 Transitional Care from Professional Home Care Aides at Visiting Angels
Home health aides from Visiting Angels assist seniors in Dallas, TX in their recovery plans, provide medication reminders and offer transportation to appointments in order to reduce the likelihood of being readmitted to the hospital
When a parent or loved one returns home from a hospital stay due to injury, illness or surgery, you want to make sure they have the help and tools needed for recovery. With Ready-Set-Go Home from Visiting Angels Dallas, your loved one can receive compassionate in-home care when recovering from a hospital stay.
Our home health aides help seniors in the Dallas area avoid the risk of re-hospitalization in their first weeks back home by providing assistance with the physical and emotional needs that come with a hospital discharge. Our transitional care services are available to seniors and their families throughout the Dallas area, including East Dallas, Lakewood, Park Cities, Casa Linda, Lake Highlands and the surrounding areas.
What Causes Readmissions?
After hospitalization, many seniors face a significant risk of readmission. Your loved one's risk of readmission could be even higher depending on their reason for hospitalization. The reasons for readmission can vary, but often include:
Lack of follow-through with discharge instructions from a physician
Exhaustion due to disrupted sleep and eating schedules while hospitalized
Medication issues, such as missing doses, or not taking medication properly
Difficulty managing a disease, illness or recovery at home
Lack of timely follow-ups with medical appointments
Lack of follow through with medical instructions
Transitional care services from Visiting Angels Dallas can help your loved one avoid readmission. We'll find the perfect home health aide to provide in-home support and assistance to seniors recovering from a hospital stay and help them follow the discharge plan outlined by their physician.
How the Ready-Set-Go Home Program from Visiting Angels Can Help Seniors in Dallas Recover at Home
When providing transitional care to seniors, Visiting Angels Dallas uses a three-pronged approach to address readmission risks.
At the hospital
During hospitalization, we provide on-request care and support to your loved one and family. Our clients receive a copy of our discharge planning guide 'Ready-Set-Go Home', which addresses issues that impact readmission. For maximum benefit, this guide should be initiated prior to discharge and used throughout recovery at home and brought to medical appointments.
At your home
When your loved one is discharged, we will help ensure the transition goes smoothly, and begin care according to a pre-agreed schedule. Your home health aide from Visiting Angels Dallas can provide a wide range of transitional home care services, including:
At our Dallas office
Our staff works diligently to make planning your loved one's transitional care as stress-free as possible. If the needs of your loved one change, our home health aides will work with you to adjust their home care plan. And because emergencies come unexpectedly, we have an after-hours line for clients and their families and will respond within 15 minutes.
Contact our Dallas, TX office today to learn more about transitional care services and schedule a no-cost consultation.
Serving Park Cities, Lakewood, Lake Highlands, East Dallas, Casa Linda and Surrounding Communities in Dallas, TX
Visiting Angels
PARK CITIES, TEXAS
8350 N Central Expy #M1018
Dallas, TX 75206
Phone: 214-368-2225
Fax: 214-853-5328