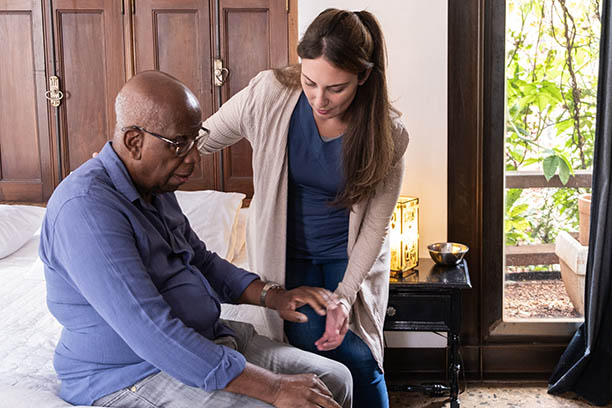 Comforting In-Home Palliative Care Services for Seniors in Dallas, TX
Seniors who live at home often have trouble with age-related mobility and cognitive issues. These issues can be worse if they're living in a chronic illness or long-term effects from an injury. If this sounds like your loved one's situation, rest assured they can get the comfort and support they need in their own home with Visiting Angels Dallas.
We offer comprehensive senior care services that aim to improve quality of life and allow elderly adults in Dallas, TX and surrounding communities to age with dignity through our Certified Palliative Care Program. Many people think that palliative and hospice care are one and the same, but these are actually different types of care even though they have many similarities. Both of these services are designed to improve the overall quality of life, but hospice care is reserved for seniors who are approaching the end of life. On the other hand, palliative services are designed for those who need care focused on their well-being regardless of their life expectancy.
Our program is designed to improve the quality of life for all our clients through essential in-home care and assistance.
How Can Palliative Care Help My Loved One?
Our Certified Palliative Care Program has its place in our Life Care Navigation collection of elder care services. This collection also includes end of life care, which is designed to provide comfort and assistance to seniors and their families during this difficult time.
Our senior caregivers who go through our certification program are trained to provide care in a supportive, soothing, compassionate, comforting way. In order to improve the quality of life of our clients, we focus on their physical, emotional, social and spiritual needs.
Our caregivers are trained to take care of seniors' physical care needs by providing quality home care services. Through our compassionate and supportive approach, we address the emotional needs of our clients who may be struggling with depression, loneliness or stress. Here at Visiting Angels Dallas, we address the social needs of seniors by building relationships with them and their families, and by providing them with companionship and conversation. It is our goal to restore hope to seniors' lives and help them find comfort and age with dignity.
How Can I Get Started with In-Home Care from Visiting Angels Dallas?
If you think that your parent may benefit from our in-home care services, consider working with Visiting Angels Dallas. With us, your parent will receive the care they need in order to lead an active, happy, healthy and fulfilling life. Therefore, don't hesitate to contact us today and schedule a meeting with one of our representatives in the comfort of your loved one's home.
Contact our Dallas, TX office today and learn all about our senior care solutions, our Select Your Caregiver option and our compassionate approach to in-home palliative care. We will gladly answer all of your questions.
Serving Park Cities, Lakewood, Lake Highlands, East Dallas, Casa Linda and Surrounding Communities in Dallas, TX
Visiting Angels
PARK CITIES, TEXAS
8350 N Central Expy #M1018
Dallas, TX 75206
Phone: 214-368-2225
Fax: 214-853-5328