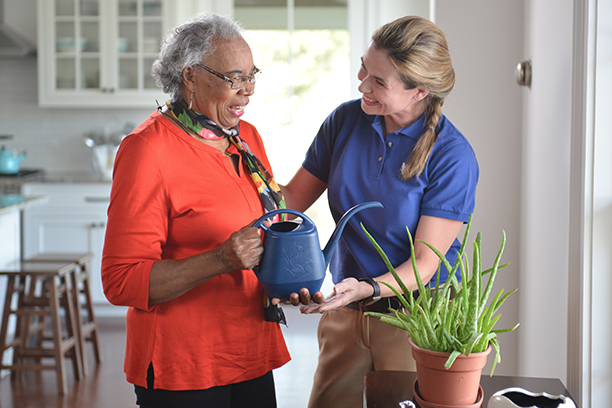 In-Home Supportive Services for Senior Veterans and Surviving Spouses in Dallas, TX and Surrounding Areas
Our senior veterans deserve the very best in-home care as thanks for serving our country. However, it can be difficult for some veterans to afford the care they need.
With Visiting Angels Dallas, you won't need to choose between affordable and quality in-home supportive services. Our office accepts Aid and Attendance benefits, a program that can help seniors afford the cost of medical expenses and any care they receive at home. Our team can walk your loved one through the process of applying and provide the care they need to continue aging in place in their Dallas-area home.
Who is Eligible for Aid and Attendance?
In order to be eligible for Veterans Affairs (VA) beneficiary status, veterans must have:
Served at least 90 consecutive days in the U.S. military
Served at least one day during a time of conflict
Been honorably discharged
Have household liquid assets that do not exceed a total of $80,000
A doctor's certification stating that the person in question is in need of assistance due to medical reasons
A qualifying monthly income after medical expenses based on the U.S. Department of Veterans Affairs criteria
In addition, surviving spouses who must meet the following criteria in order to be eligible:
Must be married and living with the veteran at the time of the veteran's death and never remarried
Must be married to the veteran for at least one year or had children with the veteran
To qualify for Aid and Attendance benefits, the veteran or surviving spouse must meet the following conditions:
Require private duty home care services such as assistance with bathing, feeding, dressing, toileting, mobility and other activities of daily living (ADLs)
Are bedridden or disabled
Reside in a nursing home due to mental or physical incapacity
Have fairly limited vision (5/200 visual acuity or less in both eyes)
Please note that these are basic requirements and some conditions may vary from state to state. To learn more about how to be eligible for Aid and Attendance benefits in Texas, check with your local Veterans Affairs office.
How Can In-Home Supportive Services from Visiting Angels Dallas Help Senior Veterans?
Whether your loved one has physical limitations due to injuries they received while serving or they're experiencing age-related issues, Visiting Angels Dallas can assist them with everyday tasks and ensure they remain safe and comfortable as they live out their golden years at home. Nursing homes and assisted living facilities are no longer the only options for seniors in the Dallas area, especially for seniors who value their freedom and independence. With our in-home supportive services, your loved one can receive the care they need while continuing to stick to their everyday routine and continue living in their cherished home.
When you choose Visiting Angels Dallas to be your partner in home care, we will work with you to create a care plan that's personalized to meet your loved one's needs and schedule. Whether your loved one needs part-time, full-time or overnight care, you can have peace of mind knowing your loved one will receive the support they truly need when they need it most.
Our in-home supportive services include:
Help with running errands
And so much more
To learn how Visiting Angels supports elderly veterans and surviving spouses in the Dallas, TX area, contact our office today!
Serving Park Cities, Lakewood, Lake Highlands, East Dallas, Casa Linda and Surrounding Communities in Dallas, TX
Visiting Angels
PARK CITIES, TEXAS
8350 N Central Expy #M1018
Dallas, TX 75206
Phone: 214-273-1843
Fax: 214-853-5328