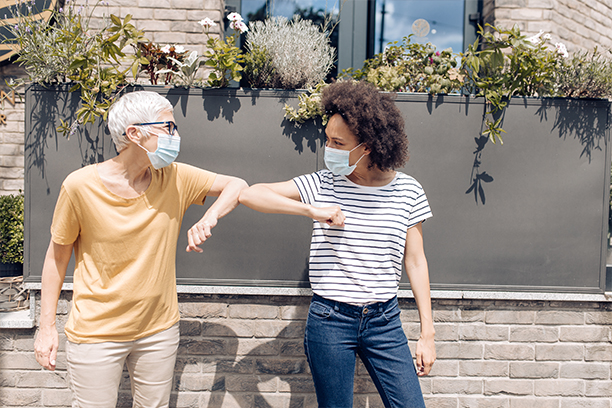 Quality Companion Care and Light Housekeeping Services for Seniors in Dallas, TX
Have you recently noticed your senior loved one's place is not as clean and spotless as it used to be? They may lack motivation or have physical issues that prevent them from maintaining their household, so it may be a good idea to consider hiring professional home care providers.
Even if your parent or relative is in good health and relatively fit to engage in strenuous activities, that does not mean they should overexert themselves, especially if they have someone who could assist them. In case you currently live out of town or simply do not have enough time on your hands, there are other ways how you can be there for your loved one.
While hiring a maid or calling professional cleaners to the rescue may sound like a good idea, Visiting Angels Dallas can offer a better solution. Our seasoned caregivers can provide valuable companion care and help with housekeeping chores at the same time. We are committed to enabling your mom or dad to continue living safely and comfortably at home, enjoying their independence and preferred lifestyle for years to come.
Light Housekeeping That Makes a Difference for Seniors in Dallas
Perhaps the most important reason why you should seriously consider light housekeeping services is to ensure the tidiness of your loved one's living space. A clean, orderly living environment is free of germs, bacteria, allergens and other things that can be detrimental to your parent's health like fall risks and tripping hazards. That is why our home care agency also provides safety recommendations for fall risk reduction.
When it comes to performing homemaker tasks, you can expect us to provide help with:
Vacuuming
Dusting
Cleaning
Laundry, with ironing and folding
Changing sheets and making beds
Taking out the garbage
And more
However, bear in mind that our light housekeeping services do not extend to heavy-duty tasks such as rearranging the furniture, cleaning the carpets, scrubbing the floors, washing the windows, mowing the grass, shoveling snow and performing other strenuous activities.
Instead, our job is to only focus on those areas of in-home care that are instrumental to your loved one's well-being. This means that besides keeping the house nice and tidy, the role of our companion care professionals is to provide your parent with friendly, meaningful companionship and help them maintain their overall wellness at home.
Contact our Dallas, TX office today to learn more about our light housekeeping services and how we can boost your loved one's quality of life. We are more than happy to provide your family with any information you need and schedule your free in-home consultation where we can visit Mom or Dad's home to tailor a suitable plan of care. Visiting Angels is here for you!
Serving Park Cities, Lakewood, Lake Highlands, East Dallas, Casa Linda and Surrounding Communities in Dallas, TX
Visiting Angels
PARK CITIES, TEXAS
8350 N Central Expy #M1018
Dallas, TX 75206
Phone: 214-273-1843
Fax: 214-853-5328