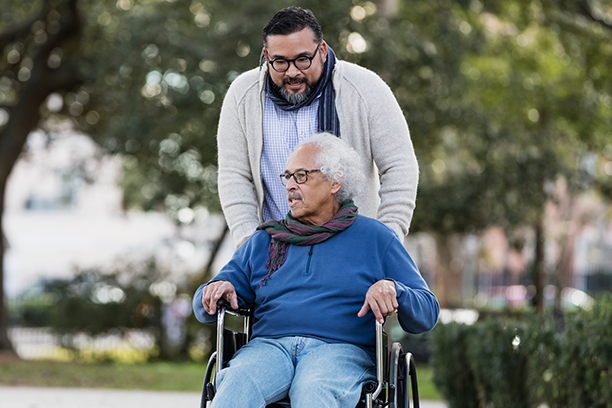 Collaborative Caregiving from Home Care Aide at Visiting Angels Dallas
Learn how seniors in Dallas, TX, and surrounding areas benefit from a collaborative approach to senior care provided by home care aides at Visiting Angels.
Choosing the right senior care agency is beyond important, but ensuring your selected caregiver is a perfect match for your loved one is crucial.
At Visiting Angels Dallas, we fully understand how delicate it may be to introduce your loved one to in-home senior care. To make the whole situation easier for families, we make great efforts to guide you through our entire work process, from selecting each home care aide to ensuring our services are provided by our mission of supporting independent aging in place.
What is Collaborative Caregiving?
It is important to know what collaborative caregiving is to gain a better insight into our caregiving approach. Namely, we believe families should be as involved in care as our care providers. From the initial consultation to the start of service, our team coordinates with clients and their families as much as possible. We want and need your input because, after all, who knows your loved one better than you?
When we speak of collaborative caregiving, we speak of clients and their families working with our home care aides and office team to ensure that seniors get the best possible care. This typically includes:
Seniors and families discussing their needs with our care coordinators during the initial consultation so we can create a custom-tailored care plan and work out any scheduling and logistics
Inviting our clients to participate in selecting their caregiver
Encouraging an open line of communication between caregivers and families; you can inform us if your loved one's needs change and we can inform you if we notice any changes in their well-being
Encouraging seniors to lead active, fulfilled lives and receive plenty of physical and mental stimulation through interaction with their chosen caregiver
How We Ensure Our Caregivers Are the Perfect Fit for Our Team
In order to support wholesome, successful care for each client, we are very careful when hiring home care aides. We perform comprehensive screenings prior to employment and provide continuous training to each and every senior care provider that works in our office.
In addition, we monitor our caregivers to make certain that they are providing top-quality care to each client and are in constant contact with seniors and families to check if they are completely satisfied with our services. We are there to assist, guide and support your family every step of the way!
Whatever needs your loved one may have, you can rest assured that we go above and beyond regular caregiver training requirements. Frequent education and quarterly meetings at the office help our care providers stay informed about the best new practices in the industry.
We would also like to point out that our home care aides are not sitters. The caregiver working with your loved one is an experienced expert who provides personalized, hands-on care and promotes an active, safe life in your senior years.
To discover more about how your loved one can benefit from our collaborative approach to in-home senior care, please contact our Dallas, TX office today!


Serving Park Cities, Lakewood, Lake Highlands, East Dallas, Casa Linda and Surrounding Communities in Dallas, TX
Visiting Angels
PARK CITIES, TEXAS
8350 N Central Expy #M1018
Dallas, TX 75206
Phone: 214-368-2225
Fax: 214-853-5328