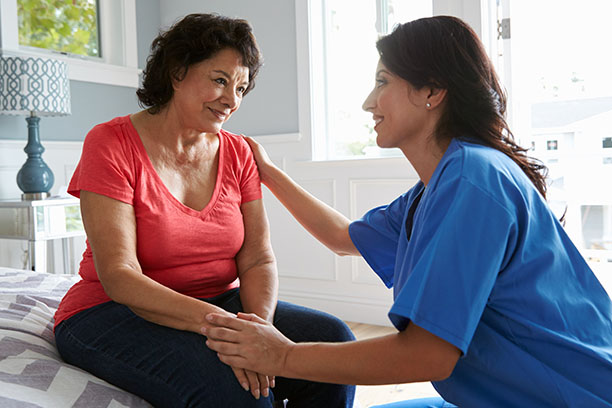 Quality In-Home Dementia Care for Seniors in Dallas, TX
Dementia care from Visiting Angels allows seniors in Dallas, East Dallas, Lakewood, Park Cities, Casa Linda and surrounding communities in Texas to receive personalized memory care in the comfort of home
As a trusted home care agency, Visiting Angels Dallas knows that when you have a loved one suffering from dementia, it impacts every area of their life and yours, as well. Simple tasks most of us take for granted – from eating and dressing to walking and driving – suddenly become a challenge. And if you can't be there for them around the clock, you're likely worried about their safety and well-being, too.
Let Visiting Angels Dallas help with our specialized dementia care services. Not only can we ensure your loved one gets the regular care and support they need, right at home, but we can also help them maintain their dignity and independence. Beyond that, we can offer you and your family the respite break you deserve, so the time you do spend with your loved one can be high quality.
"I had a family member that was not sleeping at night due to dementia. His wife was exhausted. Visiting Angels provided great caregivers that managed him at night. We were desperate and they made arrangements very quickly. Love this group!"
Why Choose Visiting Angels Dallas?
At Visiting Angels Dallas, we offer a unique collection of home care services called Life Care Navigation™. We have senior care solutions specially designed for those seniors in areas like Dallas, East Dallas, Lakewood and Park Cities, TX, who are suffering from dementia. It enables us to meet your loved one's daily physical needs, as well as provide companionship and support for their emotional and social health.
Our dementia care services include:
As an agency that has provided in-home dementia care throughout Dallas for many years, we know that the condition is unique - with specific symptoms, risks and obstacles that require the right knowledge. So we teamed up with some of the country's leading experts in dementia to create a certification program for our caregivers. It's made available to each and every one of them and designed to offer varying levels of training, from basic to advanced. That way, you can rest assured your loved one is being paired up with a qualified professional who can help them manage their symptoms and give them the care and support they need.
Book Your Free In-Home Evaluation with Visiting Angels Dallas
At Visiting Angels Dallas, we're not just here for the clients we serve, but their whole families, as well. That's why part of our process always includes an in-home evaluation so we can get to know your loved one, their needs and how we can best help them and you, too. We're also always available to answer your questions and concerns about our senior care services and even offer an after-hours support line for emergencies. With dementia care from Visiting Angels Dallas, you can expect personalized in-home care services, compassionate caregivers and total peace of mind.
We are dedicated to providing in-home memory care you can count on to seniors and their families in Dallas, as well as the surrounding communities, such as Park Cities, Lakewood and East Dallas.
To schedule a free assessment and learn more about our dementia care services, please contact Visiting Angels Dallas today.
Serving Park Cities, Lakewood, Lake Highlands, East Dallas, Casa Linda and Surrounding Communities in Dallas, TX
Visiting Angels
PARK CITIES, TEXAS
8350 N Central Expy #M1018
Dallas, TX 75206
Phone: 214-368-2225
Fax: 214-853-5328
Learn More About Home Care for Seniors with Dementia: