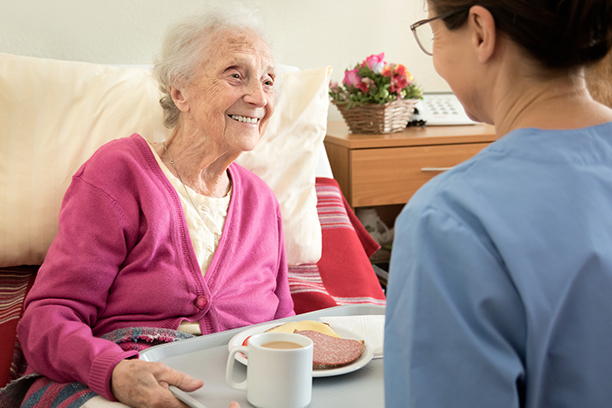 Essential Personal Care Services for Seniors in Dallas, TX
Our in-home personal care services provide dignified assistance with bathing, grooming, feeding, mobility assistance and more for seniors in Dallas, TX
Visiting Angels Dallas has been the area's trusted resource for personal in-home care for seniors since 2008. We assist countless families in the Park Cities, Lakewood, Lake Highlands and other nearby communities in Dallas with essential personal care services. Our highly trained and experienced elder care professionals help make it possible for your loved one to continue living at home in familiar surroundings. If you have been considering private duty care for an aging parent or family member, Visiting Angels Dallas can help you find the care your loved one needs.
The private duty care services provided by Visiting Angels Dallas are personalized to fit your needs. We will work closely with your family, loved one, and, if necessary, their physicians to create a plan that addresses all of your family member's health and wellness concerns. Having a complete understanding of the in-home care services that will benefit your loved one most allows the experienced professionals from Visiting Angels Dallas to provide superior care.
How Can Visiting Angels Dallas Help My Loved One?
At Visiting Angels Dallas, our dedicated caregivers can provide a variety of services for your loved one. Private duty care focuses on what your loved one needs to stay clean, comfortable and dignified.
"I contacted Visiting Angels and requested an evaluation of in-home assistance for my elderly mother. A representative was able to meet with me and my parents the very same day. The representative was very friendly and professional and did a great job of providing an individual to my parents home within 48 hours of the initial contact. My mother had a broken arm and her other arm is paralyzed from a stroke. She needed help with personal care. My mother is very difficult to please. The individual who came was perfect and spot on in her care. Most importantly, she LISTENED and that was priceless."
Many families choose Visiting Angels Dallas for personal care services because we assist with:
Grooming, such has brushing and styling hair
Transferring and positioning to ensure safety during baths or showers
Help with getting dressed and ready for the day
Our caregivers can provide personal care services seven days a week. We also offer 24-hour care when needed. Because our care plans are flexible, if your needs change over time, we can adjust your care plan to accommodate those changes.
One of the most rewarding aspects of providing senior care services to our clients is the ability to help them age in place. Visiting Angels Dallas provides assistance that allows our clients to continue to live safely in their own home instead of going to live in a facility. With private duty in-home care services from Visiting Angels Dallas, your loved one will never have to go without the care they need. Likewise, you will have peace of mind that you are giving them the gift of independence while ensuring they are safe and comfortable.
To learn how personal care services from Visiting Angels Dallas can benefit your loved one, please get in touch with our office today.
Serving Park Cities, Lakewood, Lake Highlands, East Dallas, Casa Linda and Surrounding Communities in Dallas, TX
Visiting Angels
PARK CITIES, TEXAS
8350 N Central Expy #M1018
Dallas, TX 75206
Phone: 214-368-2225
Fax: 214-853-5328
Learn More About Our Personal Home Care Services: