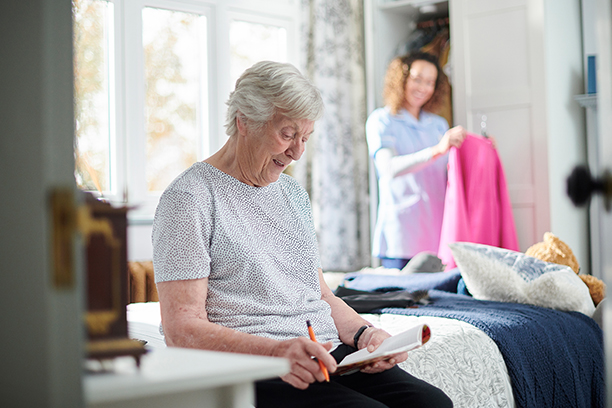 Home Care Services in the Lakewood Neighborhood in Dallas, TX
If your senior loved one in the Lakewood neighborhood of Dallas, TX is in need of quality in-home care, count on Visiting Angels Dallas to help
Seeing your loved one get older and start needing care shouldn't be a signal for stress or anxiety. We understand it can be hard not being able to be the primary caregiver for your senior loved one, especially if you live away from them. Finding the right in-home care for them by a professional agency has never been easier than with Visiting Angels Dallas.
Our team of dedicated caregivers provide a suite of in-home senior care services to elderly adults, and all of our care plans are personally tailored to fit the direct needs of each of our clients. We have been providing quality care in the Lakewood area for many years and can help your loved one get the care they need in the comfort of their own home.
Lakewood is a wonderful neighborhood surrounded by natural beauty and many exciting restaurants, shopping districts and attractions. With strong community values and an interesting architectural character, it's no wonder that seniors who live in Lakewood would choose to live their golden years at home instead of relocating to an assisted living facility elsewhere. The caregivers at Visiting Angels Dallas can make that happen.
Here's How Visiting Angels Helps Seniors in Lakewood Age in Place
At Visiting Angels Dallas, we have a very thorough process in which we get to know each of our senior clients and what their needs are before we take them on as clients. During the in-home consultation, one of our directors finds out exactly what kind of home care services your senior loved one may need and relay to anyone in attendance what their recommendations would be. Also, at this time, we require no commitment or obligation because we know how important this decision is and want you to have all the facts you need to make an educated decision.
Getting started is simple - and you'll get the support you need
Should you decide to hire us for your senior's in-home care needs, we will provide a custom-tailored plan of care and go over its details with you and your family.
We will also match your senor relative with a passionate caregiver that best suits their needs. How we match our caregivers has a lot to do with the personality of your senior loved one and the type of care we think they will need. We want them to be completely comfortable with their caregiver as this will ensure that they receive the best care and have a pleasant time having them as a companion.
We are here to provide your senior loved one with an array of in-home care services, such as personal and companion care, and more specialized care, like dementia and Alzheimer's care, should it be needed. Whether your loved one needs help getting dressed in the morning or a caregiver to accompany them on a hiking trail in White Rock Lake Park, we'll be here when they need us most.
Schedule a free in-home consultation today to see how Visiting Angels Dallas can help you and your family in Lakewood. Please call our office - we're happy to help!


Serving Park Cities, Lakewood, Lake Highlands, East Dallas, Casa Linda and Surrounding Communities in Dallas, TX
Visiting Angels
PARK CITIES, TEXAS
8350 N Central Expy #M1018
Dallas, TX 75206
Phone: 214-368-2225
Fax: 214-853-5328
Visiting Angels Dallas provides care to seniors in the following ZIP codes in the Lakewood neighborhood: