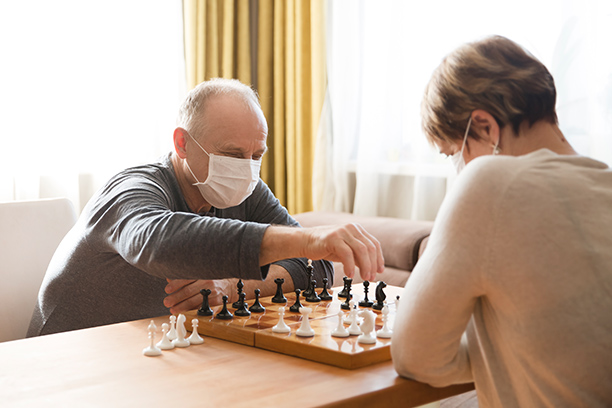 In-Home End of Life Care Services for Seniors and Families in Dallas, TX
In-home end of life care from Visiting Angels can provide much-needed support at home for seniors and families in Dallas, TX and surrounding areas. Learn how we can help you during this difficult time
The end of life process is a stressful, emotional time for the whole family. Visiting Angels Dallas is here to provide comfort care to your loved one and support to your family.
More and more seniors are choosing to spend their last days in the comfort of their own home where they are surrounded by their loved ones. If your parent is nearing the end of their life, it is important that you have access to professional in-home end of life care services. At Visiting Angels Dallas, we do everything in our power to keep our clients as comfortable as possible as they make this transition, as well as provide support to their families. Although we do not offer hospice care, our senior care providers can work with your senior loved one's hospice care provider for a comprehensive approach to comfort care.
How Our Caregivers Help Dallas Area Families
Many seniors who are diagnosed with a limited life expectancy often need some kind of end of life care. Although their family members are there to help, sometimes they do not possess the skills, knowledge or experience to provide the level of care their loved one needs. In these situations, we are here to help with quality in-home comfort care.
"We want thank Visiting Angels for all the loving care provided during my dad's recent illness and death. It was important to Dad to be able to remain at home until the end. With the help of the caring staff, we were able to respect his wishes. Our family would gladly recommend Visiting Angels!"
- Sharon T.
Our compassionate home care providers can give you, your family and your loved one the support you need during this difficult time. We understand that this type of care is often overlooked in the training process, which is why our program called Practical Care Tips for End of Life has been designed to provide caregivers with all the information they need to support and assist clients through the end of life process.
At Visiting Angels Dallas, our caregivers are trained to provide end of life care that is focused your senior loved one's comfort and well-being. Our caregivers can assist your loved one with dressing, bathing, and daily hygiene, and offer a comforting presence. At the same time, they will allow family caregivers to take a step back and get the rest and assistance they need. We are here to help with everyday tasks such as meal preparation, laundry, light housekeeping, shopping and running errands.
Getting Started with Comfort Care from Visiting Angels Dallas
If you need to find the right in-home care services for your parent, we encourage you to contact our office. We will give you all the information you need and help you schedule an in-person meeting with one of our care directors.
If you have any questions about our end of life care services, do not hesitate to contact Visiting Angels in Dallas, TX. We're here for you!
Serving Park Cities, Lakewood, Lake Highlands, East Dallas, Casa Linda and Surrounding Communities in Dallas, TX
Visiting Angels
PARK CITIES, TEXAS
8350 N Central Expy #M1018
Dallas, TX 75206
Phone: 214-273-1843
Fax: 214-853-5328