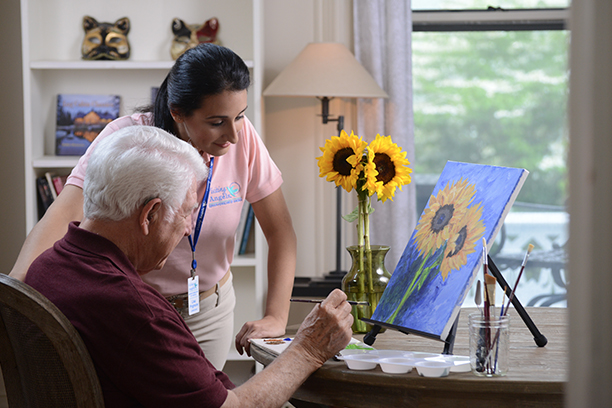 Personalized Home Care Services for Elderly Adults in Dallas, TX and Surrounding Areas
At Visiting Angels Dallas, we understand how difficult it is to find the right caregiver in the Dallas area for your elderly or disabled relative. Many families get concerned that the caregiver they hire to provide professional care may be negligent or inexperienced, causing their loved ones to receive inadequate care. You want what's best for your loved one, which is why Visiting Angels Dallas is here to listen to your concerns and provide the best home care services so your loved one can remain at home and receive the care and support they need to safely and comfortably age in place.
What Home Care Services Does Visiting Angels Dallas Offer?
Your family won't get lost in the shuffle with Visiting Angels Dallas. Some agencies simply react to calls from clients rather than anticipating your needs in advance. We begin by reviewing your needs through discussions with family members and when necessary, with healthcare providers. Our service coordinator carefully selects the caregiver to recommend to you based on matching the necessary experience and personality that is suited to the needs of each client. We then arrange for the caregiver to visit your home so that you can participate in the selection process.
Next, working in conjunction with the family, we develop an individualized program to manage your daily needs. After services begin, we implement our system of ongoing personalized contacts with your family to ensure that the care recipient is receiving the best possible care (through telephone check-ins and home visits). Most importantly, we continually communicate with the caregiver who is providing care to you.
Our care plans are extremely flexible. If adjustments to services or the schedule need to be made at any time, simply contact our Dallas, TX office and we'll make any changes you need. We work around your loved one's schedule, not the other way around!
Visiting Angels provides the following home care services in the Dallas area:
Get Started with Visiting Angels Dallas
Ready to learn more? Contact our Dallas, TX office to speak with a member of our care coordination team. We're happy to discuss which home care services may best suit your loved one's needs. We will complete a free, no-obligation care consultation and build a customized care plan.
Contact Visiting Angels Dallas today!
Serving Park Cities, Lakewood, Lake Highlands, East Dallas, Casa Linda and Surrounding Communities in Dallas, TX
Visiting Angels
PARK CITIES, TEXAS
8350 N Central Expy #M1018
Dallas, TX 75206
Phone: 214-368-2225
Fax: 214-853-5328