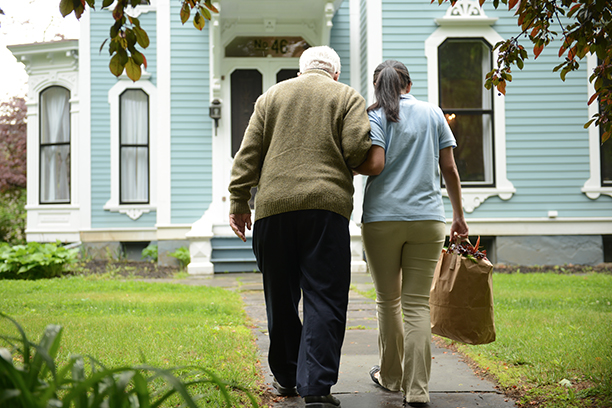 Getting Started with a Home Care Agency like Visiting Angels of Bethesda
Taking care of a senior loved one can be the highest testament of love that you can show them. However, caring for a loved one without any prior knowledge of senior care can do more harm than good. Thus, it is crucial that you opt for a professional home care agency like Visiting Angels of Bethesda.
We've been helping families in Bethesda, Aspen Hill, Silver Spring, Laurel and surrounding communities in Montgomery County, MD, get started with in-home senior care for many years and offer a simple and stress-free approach to help your loved one get the assistance they need.
Why Choose a Professional Home Care Agency like Visiting Angels of Bethesda?
At Visiting Angels of Bethesda, our caregivers are highly experienced and compassionate professionals who can take care of your loved one's needs. Working with a home care agency is the best way to provide quality in-home senior care to your loved one. But with so many caregivers and agencies providing such services, how do you know that you have found the right one? The most important thing to do is to set an initial meeting with a care coordinator to find out about the services that they provide.
Here at Visiting Angels of Bethesda, our care coordinators will assess the needs of your loved ones and will match the right caregiver to meet their needs. Our caregivers are trained to perform different tasks depending on the condition of the client. For instance, if your loved one is suffering from dementia, we will match him or her with a caregiver that has undergone training for dementia care. Our personalized approach to caring for seniors has made us a highly trusted home care agency for families in Montgomery County for over two decades.
How Can I Get Started with Visiting Angels of Bethesda?
If you're ready to learn how our home care agency can help your loved one age in place, all you need to do is contact our office and set up an in-home consultation.
In addition to being a good opportunity to create a customized care plan, the initial meeting with care coordinators from Visiting Angels of Bethesda is also the best time for us to get to know you as potential clients. We understand that approaching us might be too overwhelming for you, but our experience can help make recommendations on what works for you and your loved ones. All we need for you to do is to trust our judgment.
During the meeting, we encourage you to ask questions. By asking questions, you will be able to know what we can do and cannot do for your family. You can ask questions related to topics such as the specific types of services that our caregivers provide, specific homemaking assistance, logistics and emotional support can be raised during the meeting.
Once you are satisfied with our answers and have finally decided to choose Visiting Angels of Bethesda for in-home senior care, we can schedule a visit and establish a customized care plan for your loved one.
Give our home care agency in Bethesda, MD, a call to speak with a member or our care team – we're happy to answer any of your questions about our services!


Serving Montgomery County, MD, including Bethesda, Silver Spring, Aspen Hill, Colesville and Laurel
Visiting Angels
BETHESDA, MD
4803 St. Elmo Ave 2nd Floor
Bethesda, MD 20814
Phone: 301-490-9050
Fax: 410-549-2909