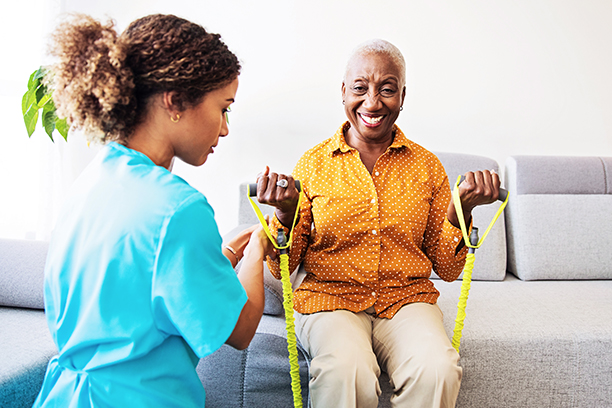 In-Home Alzheimer's Care for Seniors in Bethesda, MD and Surrounding Areas
Having one of your loved ones diagnosed with Alzheimer's can cause a huge blow to your entire family. After the initial diagnosis, your family has to make the most challenging decisions about how to provide care for your loved ones. This is especially true if your diagnosed loved ones live far from you and that sending them to a nursing home is out of the question. Luckily, Visiting Angels of Bethesda can help your loved one by providing Alzheimer's care services so they can remain independent and get the support they need.
"I appreciate the matching of caregivers for my mother, who suffers from Alzheimer's. The staff is attentive and professional. My mother is very happy with her current caregiver and I am able to work knowing that she is cared for."
- Lori C.
How Professional Alzheimer's Care Helps Bethesda-Area Seniors
The best solution to your problem is to get professional in-home care for your loved one so that they can maintain their independence when doing their daily routines. With this type of service, Alzheimer's care is given to your loved one at home where they feel the safest and most comfortable.

We place an emphasis on quality in-home Alzheimer's care services because studies show that being in a familiar environment plays a vital role in the well-being of people who suffer from dementia or Alzheimer's disease. The thing is that moving them to a nursing facility can cause immense confusion, stress, anxiety and agitation that may lead to faster progression of their condition.
How Our Caregivers Can Help Seniors Living with Alzheimer's in Bethesda and Surrounding Communities
As part of the comprehensive services provided by Visiting Angels of Bethesda, Alzheimer's home care is part of our Senior Life Care Navigation program that includes specialized dementia care services for people in Bethesda, Silver Spring, Aspen Hill, Colesville, Laurel and throughout Montgomery County, MD, who are suffering from any memory-related disorders. Our program makes it possible for people who are coping with their condition to age in their own house with dignity and respect.
But more than help and assist clients who are suffering from Alzheimer's, it is also our goal to relieve the burdens that the immediate family face. Learning about the Alzheimer's diagnosis of a loved one can be an overwhelming experience that everyone in the family needs to process and cope up with. Our caregivers can provide help with certain responsibilities related to the care of people suffering from dementia. We also provide regular monitoring and routine check-ins (even overnight) so that you and your family will be able to achieve that peace of mind that you need.
If you'd like to learn more about how Alzheimer's care services can help support your family, please call our Bethesda, MD office today!


Serving Montgomery County, MD, including Bethesda, Silver Spring, Aspen Hill, Colesville and Laurel
Visiting Angels
BETHESDA, MD
4803 St. Elmo Ave 2nd Floor
Bethesda, MD 20814
Phone: 301-490-9050
Fax: 410-549-2909