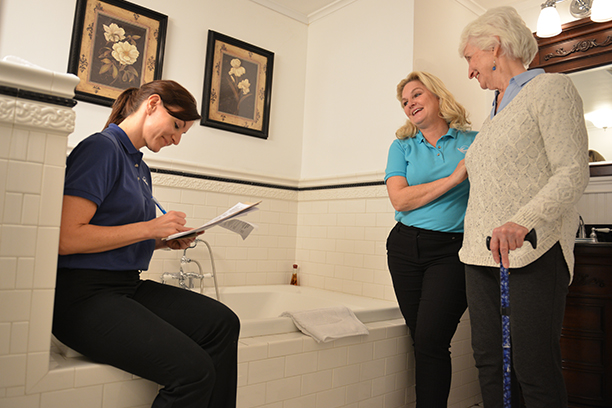 Recover Safely at Home with Professional Home Care from Visiting Angels of Bethesda
Did you know that there are about 2.6 million seniors who get readmitted within 30 days after hospitalization? Hospital readmission lengthens the recovery rate of your loved one. Thus, it is crucial to address the high rate of hospital readmission.
At Visiting Angels of Bethesda, we've created the Ready-Set-Go Home program to tackle the issue of hospital readmission amongst seniors in Bethesda, Silver Spring, Aspen Hill, Laurel and throughout Montgomery County in Maryland. Through this program, we provide professional home care services that help seniors with everyday tasks around the house that have become impossible to complete during recovery, encourage your loved one to follow medical directives to aid in recovery and monitor your loved one to make sure they're safe and comfortable at all times.
What Causes Hospital Readmission?
Among the most common reasons for hospital readmission is lack of assistance at home. When your loved one is in the hospital, or even a rehabilitation facility, they are receiving constant care. When it's time for them to go home, they will likely still need some level of assistance.
A few reasons seniors are readmitted to the hospital after being released include:
Effects of medication such as nausea that can increase the likelihood of fainting
Lack of follow-up with medical appointments
How Our Ready-Set-Go Home Program Helps Seniors in Bethesda and Surrounding Areas Recover at Home
Being released from the hospital can be a hectic and unexpected event. Suddenly, your senior loved one will need professional home care services that you personally cannot provide. This may include bathing, incontinence care, transferring and positioning, medication reminders and more.
Through the Ready-Set-Go Home program, we offer specialized professional home care services that are meant to support your loved one's recovery plan and reduce the risk of hospital re-admission.
Visiting Angels of Bethesda can help reduce the risk of hospital readmission on the very first day your loved one is released. We've developed a three-prong approach to recovery care through the Ready-Set-Go Home program that helps you and your family every step of the way.
Here is our approach to transitional care for seniors in Bethesda and throughout Montgomery County:
At the hospital: Our care starts while the client is still in the hospital. Prior to discharge, we can send our caregivers to assist the patient and their family. During the hospital visit, our caregivers can be present to listen to a doctor's orders, including dietary needs and activity limitations. Caregivers can help provide safe transportation home following a hospital stay, pick up prescriptions and help assemble home equipment.
In the home: Our caregivers can be your eyes and ears at home. They ensure that the clients follow the doctor's directives for eating and taking medication, assisting with reminders and meal preparation as needed. Our professional home care services also include assisting seniors with bathing, dressing, toileting and incontinence care. *Our caregivers

cannot

assist with wound care or other medical needs.
At our office: Our care coordinators and office staff will perform random checks on caregivers and our senior clients to ensure transitional care is being provided at the highest level. We will relay all feedback to family members and ensure that those who should be notified of changes in the plan of care are kept up to date.
If your loved one will be needing professional home care services following an operation, illness or accident, please contact our Bethesda, MD office today!


Serving Montgomery County, MD, including Bethesda, Silver Spring, Aspen Hill, Colesville and Laurel
Visiting Angels
BETHESDA, MD
4803 St. Elmo Ave 2nd Floor
Bethesda, MD 20814
Phone: 301-490-9050
Fax: 410-549-2909