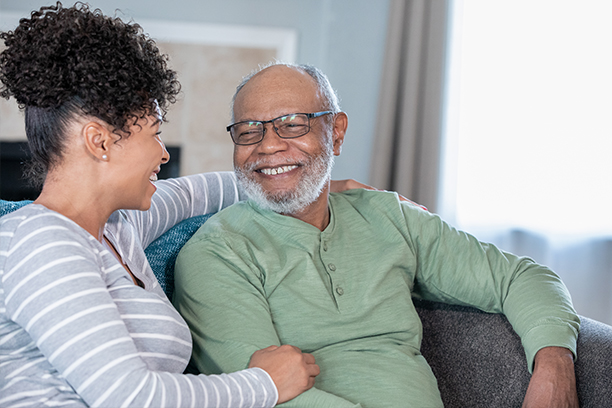 Long-Term Care for Seniors in Bethesda, MD and Nearby Areas
If your parent needs assistance with everyday tasks but still values their independence, moving them to an assisted care facility might not be the best care solution. Instead, consider home-based care from Visiting Angels of Bethesda. We've been providing quality long-term care and ensuring the safety, well-being and comfort of our clients in Aspen Hill, Silver Spring, Laurel, Colesville, Bethesda and surrounding areas throughout Montgomery County in Maryland for over 21 years.
Call 301-490-9050 to learn how we can help your loved one!
How Can Long-Term Care Help Seniors in Bethesda and Surrounding Areas?
It is not uncommon for older adults to get diagnosed with some type of illness that makes completing everyday tasks difficult. Even those activities that were simple before, such as dressing or preparing a meal can become a challenge with age, especially for those seniors who have been diagnosed with Parkinson's, Alzheimer's or some other disease.
Long-term care can benefit your loved one in so many ways. If they suffer from a chronic illness, our caregivers can help them manage their symptoms and stick to a healthy routine. Seniors who have been diagnosed with Alzheimer's, Parkinson's, ALS or some other form of cognitive illness will receive needed assistance and support, as well as ongoing monitoring in order to reduce their risk of falling, wandering and injuries.
If your parent is receiving treatment for cancer at home, our compassionate caregivers can provide meaningful companionship and help with personal tasks. Older adults with mobility issues can remain comfortable and safe at home with our long-term home care services.
What Does Long-Term Care from Visiting Angels of Bethesda Include?
Our trained caregivers can assist your loved one with daily tasks and make aging at home a little bit easier. They can help your parent with planning and preparing healthy meals, as well as bathing and getting dressed. Our caregivers can also provide assistance with grooming, hygiene and incontinence care, mobility, transportation, light housekeeping, medication reminders and more. Apart from assisting your parent with various tasks, our care professionals can also provide meaningful companionship.
By delivering dependable in-home senior care, our caregivers can help your loved one manage age-related difficulties and symptoms of chronic and serious illnesses.
How Can Families in Bethesda and Montgomery County, MD Afford Long-Term Care?
If you believe that your parent could benefit from long-term home care, you may be wondering how you will afford it. Luckily, a long-term care insurance policy can help your loved one pay for the services they need. In case they already have a policy, make sure you speak with an insurance broker to fully understand what their specific policy covers.
To learn more about long-term care from Visiting Angels of Bethesda, contact our office and set up a free in-home consultation.


Serving Montgomery County, MD, including Bethesda, Silver Spring, Aspen Hill, Colesville and Laurel
Visiting Angels
BETHESDA, MD
4803 St. Elmo Ave 2nd Floor
Bethesda, MD 20814
Phone: 301-490-9050
Fax: 410-549-2909