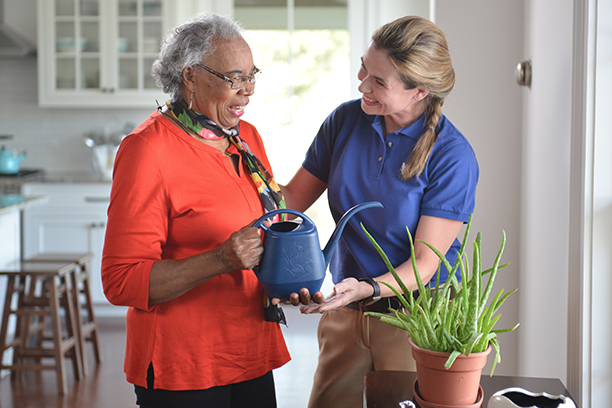 Personalized Home Care Services for Seniors in Aspen Hill, MD
Does your elderly parent or relative struggle with everyday tasks? Do they need help with daily activities such as housekeeping, cooking or bathing? Here at Visiting Angels of Bethesda, we understand that seniors want to age at home where they feel safe and comfortable, which is why we offer personalized, one-on-one home care services to older adults living in Aspen Hill, MD.
With our help, your loved one will be able to remain independent in their own home, regardless of their age-related health issues. Our caregivers will ensure that your senior loved one leads a happy, healthy, and active life.
Call 301-490-9050 to learn how we help seniors in Aspen Hill age in place!
What Home Care Services Are Available in Aspen Hill, MD?
Thanks to our trained, experienced and dedicated caregivers, we are able to provide a wide variety of in-home senior care services in Aspen Hill.
Our caregivers can:
Senior Life Care Navigation
Visiting Angels of Bethesda's Senior Life Care Navigation program provides unique strategies to home care for seniors and disabled adults in Aspen Hill and nearby communities. For those who need more comprehensive assistance to remain in their homes as they age, this collection of senior care services may be quite helpful.
Private Duty Care
With private duty home care, our caregivers can assist your loved one in taking care of their physical needs. This can include helping them make meals, bathe and get dressed for the day.
Companion Care
Independent seniors still need companionship and social interaction as they age in place. With companion care, one of our caregivers can visit with your loved one, join them in their favorite hobbies or take them out to their favorite locations in Aspen Hill.
Palliative Care
Our palliative care services can provide seniors who are coping with chronic diseases with comfort and support. The in-home care our caregivers can provide may help your loved one regain hope and make it simpler for them to age in place, all while taking care of their physical, emotional, social and spiritual needs.
Fall Prevention
Due to age-related difficulties, elderly adults have a higher risk of falling. With our fall prevention services, our caregivers can help your loved one stay safe by keeping an eye on them while providing home care solutions that can help them keep their balance, help them get around the house and so much more.
Social Care
Our Social Care program can help if your loved one has trouble staying in touch with friends and family. Our caregivers will help your loved one get comfortable with the use of digital tools including social media, video conferencing software, texting and other means of keeping in touch with the people they care about.
Ready-Set-Go Home
Ready-Set-Go Home is a transitional care program that assists seniors after they have been discharged from the hospital in an effort to lessen the likelihood of readmission. Our caregivers can help during the recovery process by making sure your loved one keeps their doctor's appointment schedule, takes their medicine and follows their recommended diet.
Dementia Care
To help seniors with dementia age in place with dignity and independence, we provide comprehensive dementia home care services that include everything from transportation and medication reminders to companionship and wandering prevention.
Alzheimer's Care
With Alzheimer's care from Visiting Angels of Bethesda, we provide a qualified, local caregiver to create a peaceful, secure atmosphere for your loved one and assist your family in navigating the ups and downs of Alzheimer's disease.
End of Life Care
Families and seniors who are approaching the end of their lives can get the support they need via our end of life care services. Our caregivers are here to support your family emotionally during this trying time while also assisting your loved one in staying comfortable and satisfied.
Learn more about the senior care services we offer in Aspen Hill by contacting us today!
Why Do Seniors in Aspen Hill Choose Visiting Angels for Their Home Care Needs?
Here are some of the reasons why we've been a reliable home care provider for elderly and disabled adults in Aspen Hill:
We're Local and Care About Our Community
For over 21 years, residents of Aspen Hill and the rest of Montgomery County have been able to rely on the in-home care provided by Visiting Angels of Bethesda. Our caregivers live in the communities they serve, and each one is committed to making a positive difference in the lives of the seniors they assist. Not only do we focus on helping seniors age in place, but we also focus on making aging in place positive and fulfilling.
Our home care services include assisting seniors with everyday tasks, as well as providing companionship as they enjoy activities throughout their community. Whether your loved one needs help taking a bath, cooking meals or needs a caregiver to be with them while they take a stroll through Aspen Hill Local Park, your loved one will receive the support they need to maintain their health, safety and independence.
We Offer Personalized Senior Care
Since every senior has unique care needs, we will create a customized plan tailored according to your loved one's needs and preferences. We will work closely with you and your family so that we find the best solution possible for your aging loved one. We want to make sure your loved one gets the best in-home care possible.
After a full assessment of your loved one's current situation, our team will create a care plan that's personalized based on your loved one's needs and schedule. We want to make sure that your loved one gets the support they really need without interfering with their regular routine.
We Hire Compassionate, Professional Caregivers
Trusting a stranger with the care of a family member or close friend is a significant undertaking. Because of this, we only hire individuals we would trust to take care of our own families. All potential hires are subjected to exhaustive background checks and interviews before they are asked to join our team.
We only recruit senior care specialists who share our values and vision and who can demonstrate a commitment to providing exceptional care and support to the seniors they work with. At Visiting Angels of Bethesda, our mission is to provide home care in accordance with our core principles of compassion, devotion, kindness and patience.
We'll carefully match your loved one with a caregiver that fits their personality, availability and the kind of care they need. That way, our caregiver can form a strong, meaningful bond with your loved one, which helps us provide the quality care your loved one deserves.
Contact Us Today for a Free In-Home Consultation
If you wish to learn how we help seniors in Aspen Hill, don't hesitate to contact our Bethesda, MD office today.


Serving Montgomery County, MD, including Bethesda, Silver Spring, Aspen Hill, Colesville and Laurel
Visiting Angels
BETHESDA, MD
4803 St. Elmo Ave 2nd Floor
Bethesda, MD 20814
Phone: 301-490-9050
Fax: 410-549-2909