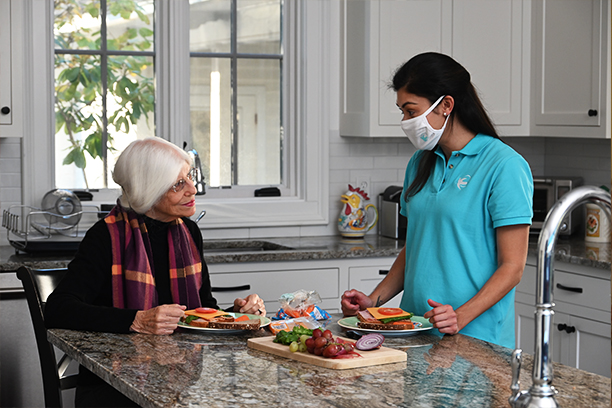 Elder Care Services from Experienced Home Care Professionals in Bethesda, MD and Surrounding Areas
When choosing a caregiver for your loved one, knowing that they're skilled in their field is one of the top priorities that you may have. You want someone that you can trust; someone that'll be as compassionate to your loved one as you are. We understand that at Visiting Angels of Bethesda, and we use a variety of strategies to ensure that our family of senior caregivers is the best of the best. This helps us provide exceptional in-home elder care services in Bethesda, Aspen Hill, Silver Spring, Laurel and surrounding Maryland communities.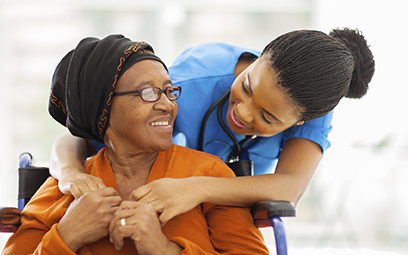 How We Find Our Home Care Professionals
Before we hire a new caregiver, we screen them in many different ways to evaluate their competence. At all Visiting Angels of Bethesda, each potential employee is interviewed many different times before we ask them to join our team of home care professionals. Also, we request many different avenues of references from reliable sources. These sources often include volunteer organizations, previous clients and healthcare institutions.
We make sure that we find all the information that we can about a new hire to ensure that each hire we make is a great one for Visiting Angels of Bethesda.
We don't believe in training while you work. Instead, we seek out home care professionals that already have a wide variety of experience with providing compassionate elder care services. Most often we hire caregivers who already have experience in a senior care facility or those who have participated in healthcare certification training programs.
How We Help Seniors Find the Right Caregiver
Regardless of the elder care services our clients need, we have a caregiver that can help your loved one in that particular area. For example, if your loved one needs help with their hygiene needs, we have a caregiver that is knowledgeable in personal care services and can provide excellent private duty care.
At the end of our vetting process, we are happy to accept a new caregiver into our Visiting Angels family. Our home care professionals are passionate about their work, and many of them work with us for a number of years. Any of them would love to work with you and your family. It all depends on what you and your family prefer from your care.
Before being assigned a caregiver, you will have the opportunity to interview many different caregivers in order to find someone that will fit your loved one's scheduling and your medical needs.to work with you and your family.
If you trust Visiting Angels of Bethesda with in-home elder care services for your loved one, we'll do all that we can to find a caregiver that's absolutely perfect for you.
Please contact our office in Bethesda, MD today to learn more!


Serving Montgomery County, MD, including Bethesda, Silver Spring, Aspen Hill, Colesville and Laurel
Visiting Angels
BETHESDA, MD
4803 St. Elmo Ave 2nd Floor
Bethesda, MD 20814
Phone: 301-433-7237
Fax: 410-549-2909