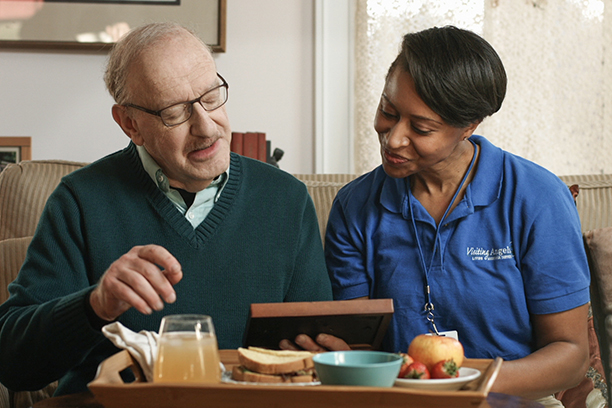 Questions About In-Home Elder Care from Visiting Angels of Bethesda
Q. What elder care services do you provide in Bethesda and surrounding areas?
Visiting Angels of Bethesda provides a comprehensive range of companion care and personal home care services. Our elder care services were created with the needs of older adults in Bethesda, Silver Spring, Aspen Hill, Laurel and throughout Montgomery County, MD, in mind. They are designed to ensure seniors are able to continue aging in place in the comfort of their own home in a dignified manner without ever compromising their safety. We also provide fall prevention, memory care, long-term care and transitional care for seniors returning home after being discharged from the hospital.
Q: What does "aging in place" mean?
The best way to describe what "aging in place" means is to start by talking about what it is not. It definitely does not entail moving older adults to nursing homes or assisted living facilities. Aging in place is all about continuing comfort, avoiding stress and helping seniors continue to live on their own terms in their own homes. At Visiting Angels of Bethesda, we provide assistance for seniors living at home so they can continue to age in place while staying safe and comfortable.
Q: What areas do you serve?
Visiting Angels of Bethesda provides in-home elder care services to aging and disabled adults throughout Montgomery County in Maryland, including:
Wheaton-Glenmont
North Kensington
Glenview
Hillandale
White Oak
Adelphi
Langley Park
Fairland
Calverton
Cloverly
Spencerville
North Bethesda
Brookmont
If your loved one lives outside our service area, we can direct you to a Visiting Angels office who can provide the care and support your loved one needs.
Q: Are you available to provide elder care in assisted living facilities?
Absolutely. In addition to providing in-home elder care services, we also provide supplemental senior care in residential senior living communities. Many older adults find that the home health services they receive in facilities like assisted living facilities or nursing homes is simply not enough. When this is the case, we send a care provider to help your loved one with whatever they may need throughout the day to make sure they are living life on their own terms.

Q: Once I decide to go with Visiting Angels of Bethesda, how quickly can my senior parent begin receiving personal home care?
We are generally able to begin providing in-home elder care within a 48-hour window, although we can provide same-day service when needed.
Q: How flexible is my loved one's care plan? How can I make changes?
You will find it very easy to make any schedule changes you need with Visiting Angels of Bethesda. All we need is one week's notice. At Visiting Angels of Bethesda, we understand that the nature of aging is such that needs can change quickly and our care plans are designed with this in mind. Flexibility is key when it comes to providing the best home care services.
Q: How can I get started with Visiting Angels of Bethesda?
Getting started with elder care services from Visiting Angels of Bethesda is simple. Take a couple of minutes right now to give our representatives in Bethesda, MD a call today or fill out our contact form.


Serving Montgomery County, MD, including Bethesda, Silver Spring, Aspen Hill, Colesville and Laurel
Visiting Angels
BETHESDA, MD
4803 St. Elmo Ave 2nd Floor
Bethesda, MD 20814
Phone: 301-490-9050
Fax: 410-549-2909