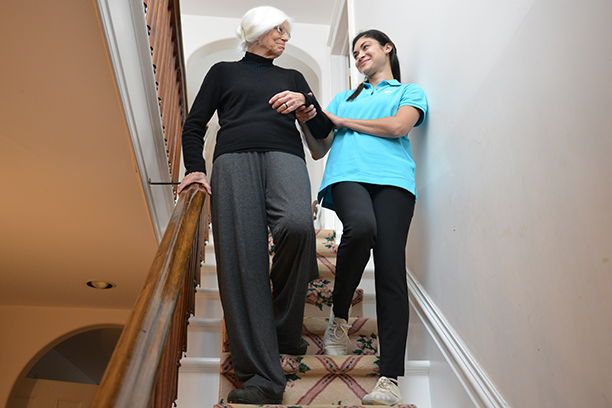 Companion Care Services for Seniors in Bethesda, MD and Nearby Areas
Do you have an elderly loved one who lives far away from you? Do you worry about their happiness or safety when they're alone? If so, it may be time to consider the benefits of companion care services from a trusted local agency like Visiting Angels of Bethesda.
Our range of companion home care services do more than just take the difficulty out of everyday tasks. We've been bringing comfort and joy to seniors in Bethesda, Aspen Hill, Silver Spring, Laurel and surrounding areas in Montgomery County, MD, for over 21 years so that seniors in those communities can lead fuller, happier lives at home.
Learn how our caregivers can help your loved one! Call 301-490-9050 today.
"Mom is more engaged than she's been in quite some time. She lets Venetia get her cleaned up, she's eating better, talking more, willing to get up from her bed/chair. They love to color, read, sing, listen to music (jazz & classical) and watch the squirrels together. This is truly heartwarming. Talk about a perfect fit. I would highly recommend!"
- Stanley S.
Why Choose Companion Care from Visiting Angels of Bethesda?
At Visiting Angels of Bethesda, we rely on two things to help us provide truly outstanding companion care for seniors. The first is our caregivers whose compassion and experience combine to help them providing exceptional in-home care for their senior clients.
It is into their capable hands that we place the second thing, our comprehensive suite of senior care services. These services range from offering a helping hand with small, everyday tasks and chores to providing meaningful emotional support and companionship for seniors who live on their own or far from their loved ones. No matter what kind companion care they are tasked with providing, our caregivers from Visiting Angels do so with gentle hands and open hearts to enrich the lives of the seniors they touch.
Our companion home care services include:
Going shopping and running errands
Taking walks outdoors
Going to the cinema or museums
Playing card or board games
Engaging in light-hearted conversation
Looking through photo albums
Due to the versatile nature of our companion care services at Visiting Angels of Bethesda and the flexible way in which we provide them, they can be made to fit with seniors at all stages in the aging process. So whether your loved one is spry and only needs a little extra company from time to time or is ailing and needs help with household chores that might cause undue strain, our caregivers can be there to provide it. In fact, we'll tailor your senior care services to meet your unique needs and your loved one's preferences to a T.
To find out more about how our companion care services could brighten up your loved one's life, call Visiting Angels of Bethesda and book a free, in-home consultation today.


Serving Montgomery County, MD, including Bethesda, Silver Spring, Aspen Hill, Colesville and Laurel
Visiting Angels
BETHESDA, MD
4803 St. Elmo Ave 2nd Floor
Bethesda, MD 20814
Phone: 301-490-9050
Fax: 410-549-2909