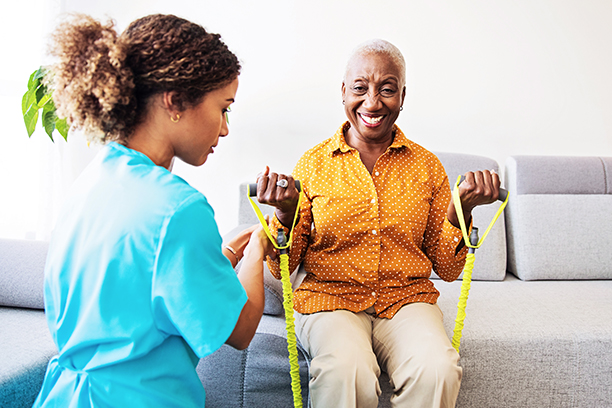 Alzheimer's FAQ for Families in Bethesda, MD and Nearby Areas
Whether you suspect your loved one has Alzheimer's disease or has already been diagnosed, it's important to learn as much as you can about the disease. The better you understand Alzheimer's, the more you can do to make sure your loved one has good quality of life. But it can be tough to find information about the disease that's easy to understand and can help you find the right solution.
That's why Visiting Angels of Bethesda has answered some of the most basic questions about Alzheimer's, including symptoms, risk factors and options for Alzheimer's care.
What is Alzheimer's disease?
The short answer is that Alzheimer's disease is a degenerative brain disorder. The long answer, and probably what most people want to know about when they ask the above question, is that it is a condition that is progressive, always degenerative and will eventually leave the individual diagnosed without the ability to speak, walk and even chew on their own.
As many as 5.5 million Americans across the country have been diagnosed with Alzheimer's and are living with it. Overwhelmingly, the disease affects the elderly. However, younger individuals can experience early-onset Alzheimer's disease.
Although Alzheimer's is a terminal condition, with Visiting Angels home care your loved one can live a safe and comfortable life, independently and without ever having to leave their home if they do not wish to do so. In fact, staying at home and avoiding the stress of moving to an assisted living facility can help your loved one avoid a rapid progression of the disease.
Thinking of what's best for your loved one, if they have been diagnosed with Alzheimer's, you should contact Visiting Angels home care as soon as possible to get them the assistance they need.
Is there a difference between Alzheimer's and dementia?
Yes. Generally speaking, dementia is an umbrella term that encompasses Alzheimer's disease. However, the umbrella term encompasses a wide range of conditions, some of which are not degenerative, progressive and terminal. On the other hand, all cases of dementia do include at least some memory loss.
Are there any known risk factors for Alzheimer's?
There are a number of risk factors. The exact cause is still unknown; however, scientists have identified advanced age, genetics, heart health, sleeping problems, high stress levels, heavy smoking, heavy drinking, a history of head trauma and exposure to air pollution as common risk factors.
What are the symptoms?
Some of the most common symptoms of Alzheimer's disease include short and long-term memory loss, problem solving issues, struggling to take care of daily activities, forgetting or mixing up words, misplacing things or forgetting about them entirely, confusion about time and place, forgetting the names of individuals that are close, irrationality, irritability and depression.
Is there a cure?
Unfortunately, a cure for Alzheimer's disease has not been found yet. As of right now, the disease's progression is irreversible. However, some scientists have developed certain techniques to help slow down the progression.
How can Visiting Angels home care services help seniors in Bethesda and surrounding areas?
We offer quality Alzheimer's care for seniors in Aspen Hill, Laurel, Silver Spring, Bethesda and surrounding Maryland communities. Our care services allow Alzheimer's patients to get the assistance they need in the comfort of their own home. In addition to personal care services and meaningful companionship, our caregivers can also remind your loved one to take their medication, provide fall prevention solutions, prevent your loved one from wandering and anything else your loved one needs to remain safe, happy and healthy.
Learn more about Alzheimer's care options from Visiting Angels home care by contacting our Bethesda, MD office today.


Serving Montgomery County, MD, including Bethesda, Silver Spring, Aspen Hill, Colesville and Laurel
Visiting Angels
BETHESDA, MD
4803 St. Elmo Ave 2nd Floor
Bethesda, MD 20814
Phone: 301-490-9050
Fax: 410-549-2909