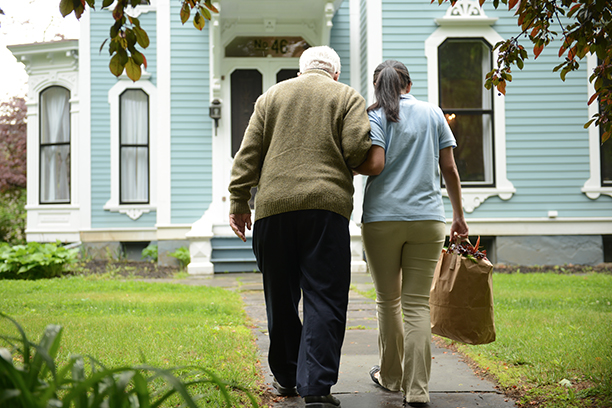 Home Care Options for Seniors with Parkinson's in Bethesda, MD
Parkinson's disease is a degenerative disorder of the central nervous system that affects movement. As it is a progressive condition that worsens as time goes by, affected individuals often require high levels of care as they are prevented to perform even routine, everyday tasks without assistance.
If your loved one is diagnosed with Parkinson's, we are here to help. At Visiting Angels of Bethesda, our caregivers are trained and qualified to provide expert home care options in order to assist older adults with Parkinson's in Bethesda, Silver Spring, Aspen Hill, Laurel and throughout Montgomery County, MD, who continue to live independently at home.
Symptoms of Parkinson's Disease
The symptoms of Parkinson's are very subtle in the beginning, sometimes barely noticeable, and usually do not affect one's quality of life in any way. Unfortunately, over time, the condition will severely affect your loved one's dexterity, movement and mental functions.
A person with Parkinson's can commonly experience the following symptoms:
Mobility and balance issues, such as stiffness and gradual slowing of movement
Frequent, uncontrolled shaking
Issues that are not related to mobility but are caused by the condition, such as depression, anxiety, and sleeping disorders
Lack of comprehension, sometimes accompanied by delusions
How Our Home Care Options Help Seniors in Parkinson's in the Bethesda Area
For seniors who struggle with Parkinson's, performing even simple, everyday tasks can be extremely difficult and even dangerous as those with the condition are at higher risk of falling and sustaining injuries.
However, with personalized home care options from Visiting Angels of Bethesda, Mom or Dad can continue living safely and comfortably at home, regardless of the symptoms or stage of their condition.
A highly qualified caregiver from Visiting Angels of Bethesda can assist your loved one with:
Mobility
Transferring and positioning
Grocery shopping and running errands
And last but not least – be there to provide meaningful companionship and emotional support
Living with Parkinson's also means your mom or dad's needs may shift and change as their condition worsens. Just like our dementia care and other specialized home care options that cater to older adults with chronic conditions, our Parkinson's care is flexible – meaning the care plan can be reviewed and adjusted to match your loved one's arising needs whenever you wish.
Get Started with Parkinson's Care from Visiting Angels of Bethesda
Get in touch with our Bethesda, MD office today and learn more about Parkinson's care, dementia care and other home care options geared toward boosting senior independence and quality of life at home. We will gladly answer all your questions and offer you a free in-home consultation where we can customize a care plan best suits your loved one's needs.
Contact Visiting Angels of Bethesda today to learn how we help seniors living with Parkinson's remain independent. We look forward to working with you!


Serving Montgomery County, MD, including Bethesda, Silver Spring, Aspen Hill, Colesville and Laurel
Visiting Angels
BETHESDA, MD
4803 St. Elmo Ave 2nd Floor
Bethesda, MD 20814
Phone: 301-490-9050
Fax: 410-549-2909