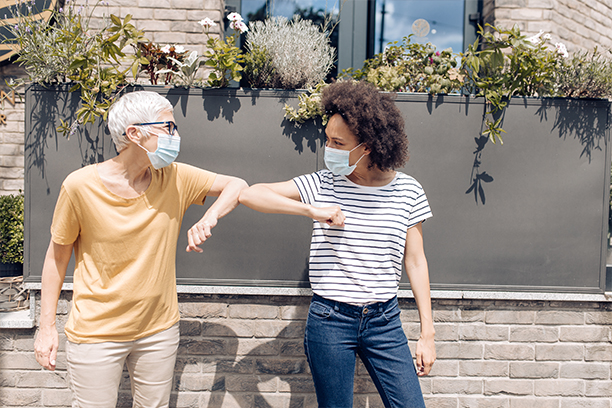 Long-Distance Home Health Aide Services for Seniors in Bethesda, MD and Surrounding Areas
Many families find providing in-home care for an elderly loved one a challenging task, especially when their elderly loved one lives in another city or state. As the leading home health agency for seniors in Silver Spring, Aspen Hill, Bethesda, Colesville and Laurel, MD, Visiting Angels of Bethesda understands these difficulties and how to provide the right home health aide services while keeping you in the loop.
If your live outside of North Montgomery or South and Eastern Prince George's Counties in Maryland, we will help you coordinate the right kind of home health aide services. We ensure that our long-distance care services are fit to meet the needs of your senior loved one and we understand the importance of keeping you in the loop every step of the way.
Why Choose Long-Distance Home Care Options from Visiting Angels of Bethesda?
At Visiting Angels of Bethesda, we understand that many of our clients live several hours, if not more, from their dearest loved ones and that adult children often have to relocate because of personal and professional reasons. Many seniors choose to spend their elderly years in familiar surroundings to ensure their golden years are happily spent with ease.
At Visiting Angels of Bethesda, we make the task of finding quality in-home care services for your senior who lives far away that much easier. As an integrated home health agency, we are fully capable at helping families coordinate care for their elderly loved ones who live in different states.
If you have an elderly loved one who may be in need of in-home senior care, here are some of the ways Visiting Angels of Bethesda can help your family:
Simply call our office in Bethesda, MD to talk with a care coordinator about your loved one's care needs and your unique situation
We will provide you with all the helpful information you need about your loved one's care via phone or email. We can also answer any questions you have and provide recommendations for the next step.
We conduct one-on-one in-home consultations for our clients seeking long-distance care and help you coordinate the right kind of home health aide services.
We will work to match your senior loved one with the right compassionate caregiver, whose character and skills are suited to your senior's wants and needs.
We will provide regular updates on your loved one's well-being via phone or email.
If you require long-distance caregiving for your loved one, contact our Bethesda, MD office for more information. Our home health agency looks forward to working with you!
Serving Montgomery County, MD, including Bethesda, Silver Spring, Aspen Hill, Colesville and Laurel
Visiting Angels
BETHESDA, MD
4803 St. Elmo Ave 2nd Floor
Bethesda, MD 20814
Phone: 301-433-7237
Fax: 410-549-2909