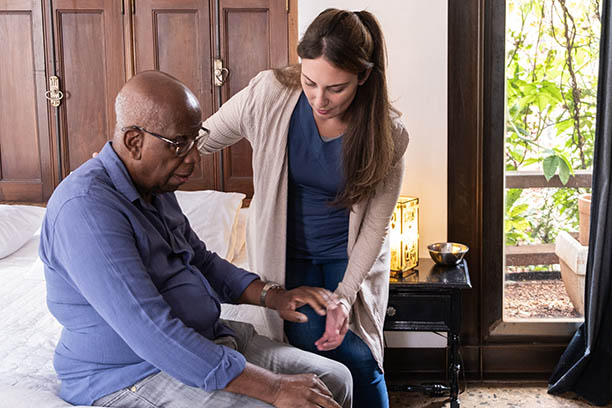 Comforting Palliative Care for Seniors in and Around Bethesda, MD
Here at Visiting Angels of Bethesda, we provide comforting palliative care that aims to enrich the quality of life of senior clients in Bethesda, Aspen Hill, Silver Spring, Laurel and surrounding areas in Montgomery County through specialized personal care and support. For over 21 years, we've been making aging in place a comforting and positive experience by providing holistic, compassionate care for seniors.
Call us at 301-490-9050 to learn how we can help your senior loved one!
How Can In-Home Palliative Care Help Seniors in Montgomery County?
Palliative care can be provided in a variety of settings, including in hospitals, in assisted living facilities and even hospice centers. However, there are some great advantages to receiving palliative services at home.
The goal of palliative services is to provide comfort and alleviate any pain or sadness in order to complement the medical treatment your loved one is already receiving. These services are hugely beneficial to seniors who have been diagnosed with an illness or chronic condition because it helps them take their mind off their condition. Just having the comforting presence of a caregiver can boost your loved one's quality of life.
What makes in-home palliative care great is the ability to receive the care they need in familiar surroundings. Many seniors dislike the thought of having to relocate to another facility to receive the comfort and care they need. For seniors who want to maintain their independence, not being able to live in their own home can be upsetting. For seniors with memory-related illnesses like dementia or Alzheimer's, the strange, new surroundings can confuse and upset them. However, when receiving in-home care, seniors don't have to stress out over moving. They can receive the comforting support they need right in their own home.
The Difference Between Palliative Care and Hospice Care
Palliative and hospice care share many features as both types of care seek ways to alleviate discomfort and improve one's quality of life as much as possible. For this, it is no surprise that most people commonly use the two terms interchangeably.
However, they're not quite the same thing. Here is the main difference – hospice care is typically provided to those with a limited life expectancy while palliative care is meant for anyone who requires care services geared toward promoting overall well-being, regardless of age or the severity of their illness.
Why Choose Palliative Care from Visiting Angels of Bethesda?
Palliative care is offered as an integral segment of Life Care Navigation, which is our comprehensive collection of specialized senior care services. Compassionate end of life care is also available through Life Care Navigation.
What sets Visiting Angels apart from other local home care agencies in the Bethesda area is our commitment to providing personalized, one-on-one care. That means our team will tailor a care plan according to your family's needs and schedule. With Visiting Angels of Bethesda, you get a partner in care you know you can trust and the possibility to Select Your Caregiver. That way, your loved one can get the support they need when they need it most from a caregiver they trust.
Our caregivers undergo extensive training to enable them to approach palliative care with a holistic mindset and provide supportive, soothing and comforting home care services. Our mission is to assist with healing in any way we can and restore hope to all our clients.
We do this by addressing a wider spectrum of senior care needs, including:
Physical needs – Our caregivers are trained to recognize signs of discomfort and distress amongst the elderly and provide essential support when needed.


Emotional needs – Our compassionate approach focuses on the emotional well-being of seniors, keeping loneliness, depression, stress and anxiety at bay.


Social needs – Our friendly caregivers provide meaningful companionship and conversation.


Spiritual needs – We also make every effort to uplift seniors and provide comfort and spiritual guidance when needed.
Getting Started with Palliative Care from Visiting Angels of Bethesda
If your loved one is in need of palliative care, make sure to call our Bethesda, MD office today. Our team members will be more than happy to answer all your questions and schedule a free in-home consultation with one of our client care directors at your loved one's place at a convenient time.
To learn more about our home care services, call our Bethesda, MD office or fill out our contact form. We look forward to working with you!


Serving Montgomery County, MD, including Bethesda, Silver Spring, Aspen Hill, Colesville and Laurel
Visiting Angels
BETHESDA, MD
4803 St. Elmo Ave 2nd Floor
Bethesda, MD 20814
Phone: 301-490-9050
Fax: 410-549-2909