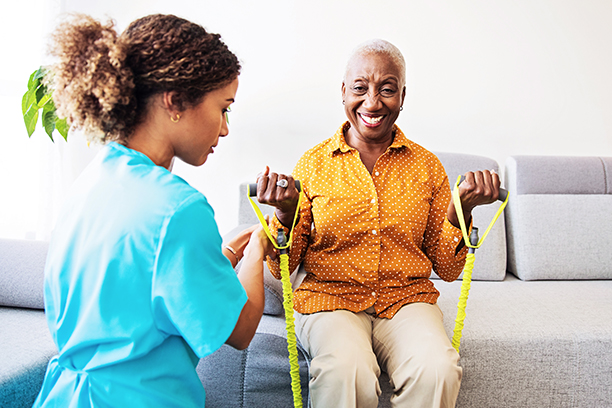 Quality In-Home Care Services for Seniors in Laurel, MD
As they age, most seniors find everyday tasks challenging. If your loved one needs assistance with everyday activities such as bathing, cooking, dressing or light housekeeping, don't worry, Visiting Angels of Bethesda is here to help. With our in-home care services, your loved one will be able to live out their golden years in their Laurel, MD, home, where they feel safe and comfortable.
Learn how we help seniors in Laurel by calling 301-490-9050 today!
How Our Home Care Solutions Help Seniors in Laurel Age in Place
Just because your loved one needs some assistance with daily activities doesn't mean they have to relocate to a nursing home or an assisted living facility. With Visiting Angels of Bethesda, your loved one will be able to live independently in their Laurel, MD, home, despite any health or age-related issues. Our home care services are designed to ensure that seniors in our care always receive the level of care they need.
Some of our home care services include:
We understand that no two seniors have the exact same care needs, which is why we offer personalized home care options for seniors in Laurel and surrounding communities. We will work closely with you and your loved one in order to craft a care plan that fits their needs and schedule. Rest assured that with our help, your parent will receive the support they need to maintain their health, safety and independence.
How We Help Laurel-Area Seniors Thrive
Visiting Angels of Bethesda has provided a wide variety of in-home care services in Laurel, MD, for over 21 years. Many of our caregivers are Laurel-area locals and are dedicated to making a positive impact on the lives of the seniors they work with.
The city of Laurel started off as a small mill town that supported the B&O Railroad. Now it serves as a close-knit, family-friendly community that's full of places to shop, parks, entertainment venues and so much more. With warm summers and mild winters and a reasonable cost of living (despite being in close proximity to Baltimore and Washington D.C.), Laurel is an ideal place for seniors who wish to live out their golden years at home. If your senior loved one is one of the many elderly residents of Laurel who dreams of aging in place at home, Visiting Angels of Bethesda can make their dreams a reality.
Our caregivers provide compassionate care for seniors in and around Laurel while also helping them enjoy what the city has to offer. For example, if your loved one leads an active lifestyle, we can provide transportation to fitness classes at the Laurel-Beltsville Senior Activity Center, help them get to and from the Laurel Municipal Pool or accompany them on a walk through Riverfront Park. If your loved one is more laidback, our caregivers can help them check out books at the Laurel Branch Library (and remind them when it's time to return their books), carry back groceries and other good they bought from the Dutch Country Farmer's Market or simply help them relax and get some fresh air while observing local wildlife at the Patuxent Research Refuge. Of course, if your senior loved one wishes to spend the day in the comfort of their ow home, our caregivers can engage in conversation, get involved in their favorite hobbies and prepare a meal or snack.
With in-home care from Visiting Angels of Bethesda, aging in place can be a positive and beneficial experience for seniors living in Laurel, MD.
Getting Started with Home Care from Visiting Angels of Bethesda
If you need more information about our senior care services, don't hesitate to contact our Bethesda, MD office. Keep in mind that we also offer free in-home consultations, so call us and we will meet you and your parent at their home and discuss your options for in-home care, free of charge.
Contact our Bethesda, MD office today to get started with in-home senior care in Laurel!


Serving Montgomery County, MD, including Bethesda, Silver Spring, Aspen Hill, Colesville and Laurel
Visiting Angels
BETHESDA, MD
4803 St. Elmo Ave 2nd Floor
Bethesda, MD 20814
Phone: 301-490-9050
Fax: 410-549-2909