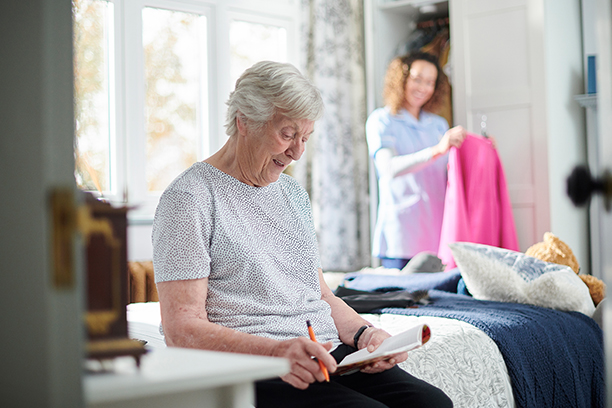 Learn How to Identify the Signs of a Stroke with Visiting Angels Palm Beach Gardens
Aside from providing top-level in-home senior care for older adults in Palm Beach Gardens, Jupiter and Juno Beach, FL, our at-home caregivers are also proactive in identifying possible health issues, including if your loved one is having a stroke
When the blood supply to the brain is reduced or completely blocked, a stroke occurs. Since the brain does not get enough oxygen or nutrients to function properly, brain cells die. A stroke is a serious medical emergency that leads to various health problem and even causes death. Recognizing signs of stroke and acting on time can be a true lifesaver.
By keeping an eye on your parent and identifying signs of stroke the moment they show, our at-home caregivers can prevent a large damage to the brain from occurring, thus making a more complete recovery possible.
Providing Proactive Care for Seniors Suffering from a Stroke
Identifying symptoms of a stroke on time can be crucial to a senior's recovery. Most common are arm, leg or face numbness or paralysis on just one side or both sides of the body, difficulties talking, slurring and understanding words, blurred, double or blackened vision, severe headache, dizziness, vomiting and loss of balance.
If your loved one shows one or more of these common symptoms, there are several ways you can immediately check whether they are having a stroke:
Ask your parent to smile and in case one side of their face drops, they are probably having a stroke.
You can also ask them to raise their arms and if they drift downward they are likely having a stroke.
If your loved one cannot repeat a simple sentence and has problems with talking, you need to react fast.
The moment you recognize these signs, call emergency services because time is of the essence when someone is having a stroke.
Visiting Angels Offers Top-Quality Post-Stroke Recovery Care in Palm Beach Gardens and Surrounding Communities
If your loved one has recently suffered a stroke, our at-home caregivers are here to help. With our assistance, your parent will be able to regain some or all of their independence and recover in a safe and comfortable environment. Since every senior has different care needs, we will create a personalized care plan for your loved one based on their medical condition. We will also identify care providers who possess the skills and experience needed in order to provide high-quality care for your parent.
If you want to learn more about how our at-home caregivers can help your loved one, don't hesitate to contact Visiting Angels in Palm Beach Gardens, FL. We are here to answer all of your questions, so feel free to call us at 561-264-0866.
Serving Palm Beach Gardens, Palm City, Jupiter, Juno Beach, Hobe Sound, Stuart, West Palm Beach and throughout Palm Beach County and Martin County, FL
Visiting Angels
PALM BEACH GARDENS, FL
8645 N Military Trl #407
Palm Beach Gardens, FL 33410
Phone: 561-328-7611
Fax: 561-328-7607