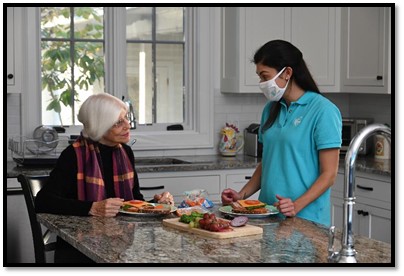 Making Dementia Manageable
Caring for a loved one who has dementia can be heartbreaking, confusing, and deeply worrisome. It can be challenging to observe someone you have shared a lifetime with begin to show signs that they are changing in ways that seem unrecognizable. There may be times where it seems hard to glimpse the person who you once knew so intricately, and you may feel that your loved one doesn't always remember children, grandchildren, or close family members. Watching a family member succumb to dementia is painful for the whole family.
The question of how to support that family member is a complicated one. Some seniors struggling with dementia feel most comfortable and in control of their lives in their own homes. They may feel like they maintain their tightest grip on reality in the seat of their most abundant source of memories. This may be problematic for their families, however, especially when they live far away. They may fear that the family member is too ill to be on their own. They may also worry that their loved one's spouse, also a senior, cannot handle the demands of caring for a partner who is suffering from dementia.
These concerns are valid. Visiting Angels South Central Michigan can help. We make dementia manageable by lending our expertise and professionalism to the situation. Here is how we help.
Some Dementia Basics
The CDC explains that dementia is an umbrella term for a variety of different diseases that impair cognition. Alzheimer's Disease and Parkinson's are two types of dementia. The CDC notes that some symptoms to look for include memory loss which may mean forgetting the name or function of a familiar object, getting lost in a familiar place, becoming unable to accomplish tasks independently, and forgetting names of close family members.
If you are concerned that a family member has dementia, their medical care provider can do a series of diagnostic tests. Call your loved one's care provider right away.
Dementia Care
Visiting Angels South Central Michigan Caregivers who assist clients with dementia are specially trained to do so. Our Caregivers help their clients build a healthy routine and ensure that they have the supplies and resources they need to thrive in their home. Visiting Angels South Central Michigan Caregivers cook for their clients, do laundry, and help with light cleaning. They remind their clients to take their medications, and they drive them to their medical appointments. Visiting Angels South Central Michigan Caregivers help dementia clients manage anxiety and they spend time connecting with them emotionally.
These in-home care solutions for seniors with dementia were developed with the Alzheimer's Foundation of America's input to ensure they meet every senior's unique needs at all stages of their condition.
This outreach is beneficial for out-of-town family members. They know that their loved one is in good hands, and they can get regular reports from our office on how their loved one is doing. We care for your loved ones the way that you would if you were there.
Respite Care
We often see seniors caring for their partners who are suffering from dementia. We are routinely moved by the compassionate care of the family caregivers we meet. They work hard and do their best to provide good care to their beloved family member. But the work is physically taxing and emotionally draining.
Respite Care gives that spouse or family caregiver some time off to take care of themself. We all need time to refresh and recharge. It doesn't mean that we aren't devoted to our loved ones. It just means that we love ourselves too, and we need to be the center of our own care sometimes. Sometimes respite care is given as a gift because a family caregiver may not realize how much they need the break until someone urges them to take it. Then that family caregiver discovers just how much they needed it.
Caring for a loved one with dementia is a challenge. Calling in expert support takes the pressure off the family. That way, you can concentrate on the emotional aspects of care and leave the heavy lifting to us. Together, we've got this. Contact us online to learn more or call us at 517-920-4254.